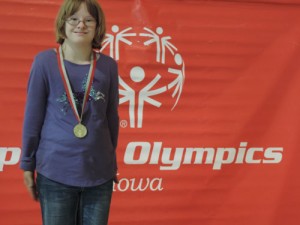 Each year, Special Olympics Iowa holds six statewide competitions, putting the heart of our athletes, the dedication of our coaches and the giving spirit of our volunteers on display.
Winter Games  is held in Dubuque in January with competition in:

Alpine Skiing
Cross Country Skiing
Figure Skating
Snowshoeing
Speed Skating

Spring Classic is held in Iowa City/Coralville in March with competition in:

Basketball
Cheerleading and Dance
Gymnastics
Powerlifting

Summer Games  is held in Ames in May with competition in:

Bocce
Cycling
Developmental Events
Soccer
Swimming
Tennis
Track and Field

Softball is held in Ankeny in August.
Fall Classic is held in West Des Moines in September with competition in:

Equestrian
Flag Football
Golf
Pickleball
Volleyball

Bowling is held in Cedar Rapids, Des Moines, Omaha, and Waterloo in November.