Although Bowling does not belong to the Olympic sports, it is among the most popular sport in Special Olympics. It is a particularly beneficial sport to people with intellectual disabilities, regardless of their age or sports abilities, since it ensures physical exercise and at the same time participation and social integration. Plus, it's great fun!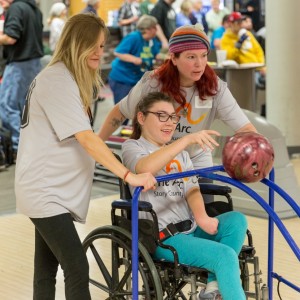 An athlete may participate in one of the following events (ramp bowling is available):
Singles
Doubles
Team (four-person)
Unified Doubles (one SOIA athlete with one Unified partner)
Unified Team (two SOIA athletes with two Unified partners)
Event Links
Bowling Rules
Bowling Registration Form
2021 Competition 
Bowling will be held as modified area events this year.  Click on your area below to see events.
Central
East
East Central
North
North Central
Northeast
Northwest
South Central
Southeast
Southwest
West Central