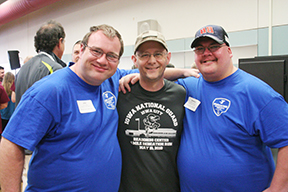 Thank you for your interest in coaching for Special Olympics Iowa! Being a Special Olympics coach can be one of the most rewarding experiences – for both you and the athletes you mentor. Special Olympics coaches often find that the personal rewards received are equal to or even outweigh the benefits they offer the athletes.
Coaches give Special Olympics athletes the most immediate awareness of their own worth, ability, courage and capacity to grow and improve.
Become a Special Olympics Iowa Coach

Have questions?  Contact Katie Wiese, Director of Regional Field Services by emailing kwiese@soiowa.org or calling 515-986-5520.