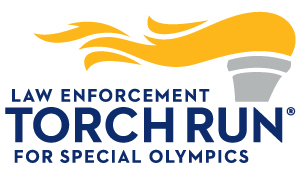 The Law Enforcement Torch Run® (LETR) for Special Olympics is the largest grassroots fundraiser and public awareness vehicle in the world.  The annual Torch Run and its various fundraising projects have two goals: to raise money and to create awareness for the athletes who participate in Special Olympics.
Learn more about LETR for Special Olympics
LETR in Iowa
LETR began in Iowa in 1987 and has evolved into the largest grassroots fundraiser for Special Olympics Iowa. The LETR initiative encompasses a variety of fundraising vehicles including Polar Plunge®, Cop on Top®, Tip a Cop®, Truck Convoy, Plane Pull and much more.
Each year, the LETR initiative continues to grow. In 2019, LETR worked with 1,000+ law enforcement officers to raise more than $1,200,000 for Iowa athletes.
Get Involved!
Participate in the Torch Run – Each year law enforcement officers carry the Special Olympics Flame of Hope along planned routes, covering all corners of the state. For the Final Leg, officers run and bike the torch from Des Moines to Ames, converging on Hilton Coliseum. The torch is passed to a Special Olympics Iowa athlete who lights the Olympic flame at the Opening Ceremonies of the Special Olympics Iowa Summer Games. Officers around the state collect donations for the opportunity to run or bike in the Final Leg.
Learn more about the Iowa Final Leg
Fundraise – Countless opportunities are available for law enforcement officers to organize fundraisers or to raise money for an existing event. Cop on Top®, Tip a Cop® or selling supporter apparel are a few great ways to get your department involved. Committees also put on various fundraising events year-round that you can participate in:
Like us on Facebook to stay up to date on all LETR news and events!
Fill out an LETR Interest Form to be contacted with more information
Law Enforcement Torch Run® Sponsors