The IMT Des Moines Marathon is partnering with SOIA to provide an opportunity for runners to run the Principal 5K Road Race or IMT Half Marathon with Special Olympic athletes. Unified pairs will train together for 4 weeks leading up to the race and show off their hard work on October 15 when they run the race as a Unified pair.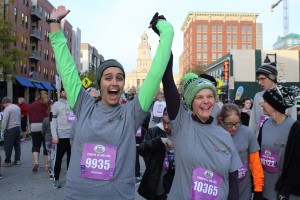 Athletes will sign up through this form.
The race will occur the morning of Sunday, October 15th (Downtown Des Moines: Court Avenue District, 300 Court Avenue, Des Moines, Iowa, 50309). Race weekend responsibilities will include a check in at the Special Olympics Iowa booth on either Friday, October 13, or Saturday, October 14, during athlete packet pick-up hours.
Runners can register for IMT Marathon here.