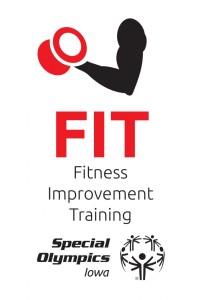 Special Olympics Iowa encourages our athletes to pursue fitness outside of their competitive sports! Incorporating physical activity along with proper nutrition and hydration every day is important for preventing injury, achieving new personal bests, and maintaining overall optimal health. Special Olympics Fitness programming empowers athletes and their supporters to take charge of their own health and fitness by providing the necessary education, social support, opportunities and tracking of progress.  Let's get fit!
Steppin' Through Summer Challenge
Our summer fitness challenge is here!  Enjoy the outdoors (or indoors) while getting fit by walking, running, biking, or rolling along with us during our Steppin' Through Summer Challenge. Keep track of the time you spend doing these activities each day and submit them at the end of the week for the chance to win prizes and top the individual and team leader boards!  This challenge will last the entirety of the Summer (June 20-September 21) and is open to athletes, fans, coaches, friends, Unified partners, walking enthusiasts, and anyone else wanting to join.
When you register, you will have the choice of signing up to be paired with another individual to be each other's Healthy Lifestyle Accountability Buddy.  This will be a way for Special Olympics Iowa athletes and other community members to hold each other accountable and motivate each other to keep pursuing their health and fitness goals!  Details about pairings will be given to interested individuals after the start of the challenge.
Here's How it Works
Step 1: Register!
Step 2: Get moving!  Walk, run, roll, bike, or skate while making sure you check your watch or your clock to keep track of your activity time.  Use the Activity Timesheet to help remember daily times.
Step 3: Record your total activity time in the tracker tool at the end of the week.
Step 4: Check leader boards, encourage teammates, win prizes, and have fun!
Helpful Links
Registration Form
Explanation of How to Track and Submit Activity Hours (video)
Activity Timesheet (PDF)
Week Seven Online Tracker Form
Healthy Lifestyle Accountability Buddy Form

Fit 5
Fit 5 is a fitness initiative based on the three simple goals of exercising 5 days per week, eating 5 total fruits and vegetables per day and drinking 5 water bottles of water per day. The Fit 5 cards and guide were designed to be utilized with flexibility, giving programs the opportunity to integrate and implement the resources in a way that aligns with their current goals and objectives.
School of Strength
School of Strength is a fun, engaging workout video series that features WWE Superstar Becky Lynch, as well as Special Olympics athletes from across the country. The workout series is made up of four videos that focus on strength, balance and endurance.  Video one is a great way to start things off before jumping into the harder workouts.   The difficulty of the exercises increases in videos two through four, see if you can work your way up to the "Master Trainer" level.
Video 1: Welcome and Warm-Up
Video 2: Ignite Your Endurance
Video 3: Getting Schooled on Strength
Video 4: Boost Your Balance 
To use this resource as a full fitness program, be sure to use the supplemental Caregiver's Kit and Coach's Playbook.  The Caregiver's Kit gives fun nutrition tips and tricks that will encourage your athlete to begin making healthy choices on their own.  The Coach's Playbook provides insight on how to make workouts fun and a list of exercises athletes can do on their own.
Caregiver's Kit
Coach's Playbook
Health and Fitness Tracker
Setting both long-term and short-term goals is important!  It helps keep us moving forward and striving to reach our full potential.  Use the below downloadable health and fitness tracker to check off daily health and fitness wins and keep yourself accountable throughout the week.
8-Week Fitness Challenge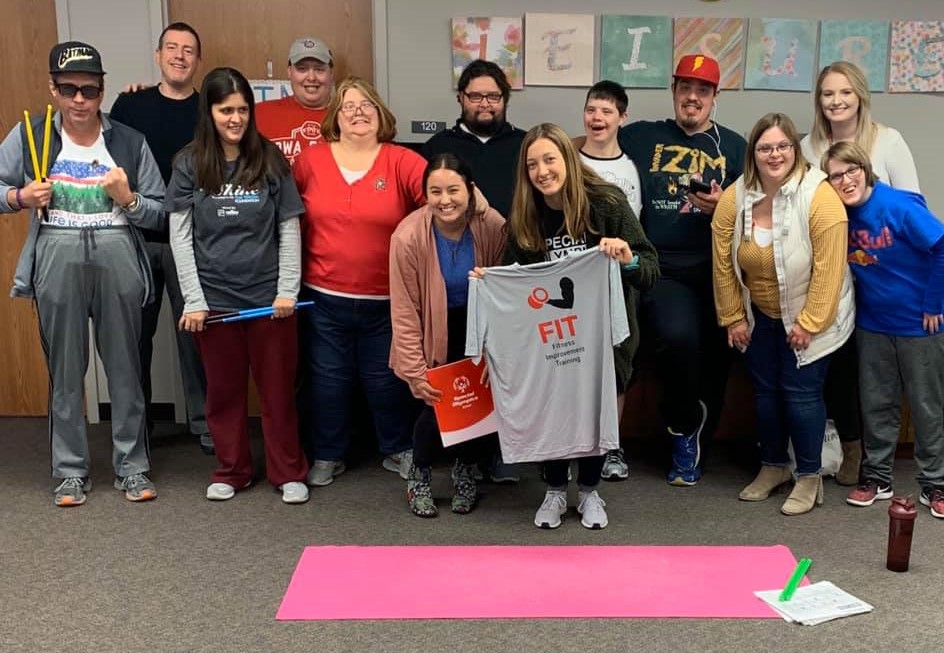 Special Olympics Iowa challenges teams to incorporate the Fit 5 program into their schedules with the 8-Week Fitness Challenge!  This challenge includes a Fitness Lifestyle Pre-Assessment, 6 weeks of exercise and nutrition lessons, and a Fitness Lifestyle Post-Assessment.  Weekly challenges and fitness tracking devices provide for an opportunity to win prizes for building healthy lifestyle habits!  This program can be incorporated in many ways, including quick 15 minute sessions during weekly Special Olympics sports practices.  All resources will be provided and lessons can be customized to fit the need of specific groups and individuals. Direct any Fitness Challenge questions or registration inquiries to kneustrom@soiowa.org.
Fit Assessments
Free Fit Assessments will be available for all athletes at the 2020 Summer Games on Friday, May 22.  Athletes will have the chance to test their BMI, flexibility, balance, agility, power, and endurance before receiving feedback and suggestions from trained professionals.
For more information about Fitness Programs, contact:
Kara Neustrom, Health and Fitness Coordinator