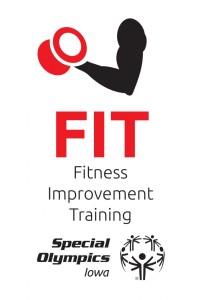 Special Olympics Iowa is ready to get FIT!  The Fitness Improvement Training (FIT) program is designed to assist in improving the fitness, athletic performance and overall well-being of our Special Olympics community.
FIT is considered a Unified Sport so we encourage all athletes, coaches, staff and family members to participate. The program has been designed to be extremely flexible – allowing you and your team to incorporate a fitness program that works for you, while providing you with resources to assist as you develop a FITness program.
How you and your team get FIT is completely up to you!  Work with your team throughout the year to improve fitness measures – walk, run, bike, swim, lift, MOVE!
FIT Tips
Hydration
Portion Control
Energy
Spring Cleaning
Athlete Nutrition Flier
Parent/Coach Nutrition Flier
Unified Sport Walking Club
SOIA sponsors a Unified Sport Walking Club. Quarterly campaigns will be conducted to encourage delegations to challenge themselves and their teams to increase their daily activity levels and to develop new friendships through exercise. Each new participant will receive a pedometer to track their individual progress.
FIT Program Requirements
Register your delegation by emailing kneustrom@soiowa.org
Pre- and Post-Fitness Assessment Testing
Submission of FIT Assessment data
FIT Program Benefits
Incentives for completion of pre- and post-testing
Improved athletic performance and overall health!
For more information or to enroll your delegation in the FIT program, contact:
Kara Neustrom, Health and Fitness Coordinator