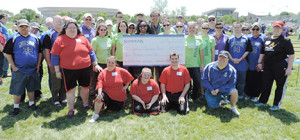 Corporate partners are essential in helping Special Olympics fulfill its mission. As a corporate partner, not only are you aligning your brand with one of the most powerful social movements in the world, you are also providing opportunities for athletes to train and live healthier, happier lives. Corporate sponsors receive a variety of value-added benefits, promotional opportunities and recognition that can generate results in:
Increased product awareness by building brand presence
Positively impacting employee morale and productivity
Linking products and services to an inspiring cause
Sponsorship Opportunities
Statewide Competitions: Special Olympics Iowa hosts eight state competitions each year, offering companies opportunities to support individual sports, venues or state games.
Area Competitions: There are nearly 70 area competitions held across Iowa every year which give athletes opportunities to qualify for competitions at the state level.
Athlete Leadership Programs: These programs educate and train individuals with intellectual disabilities in literacy, leadership and speaking skills. The Global Messenger program teaches athletes to deliver speeches about Special Olympics and how it has changed their lives. The Athlete Leadership Workshop develops skills for athletes to serve in leadership roles.
Challenge Days: Unique to Iowa, this program offers hundreds of youth and adult athletes with severe and profound disabilities the opportunity to compete in team and individual events.
Healthy Athletes: This free screening program is offered during Summer Games and the Mid-Winter Tournament to improve greater overall health and fitness of athletes.
Unified Sports: Special Olympics is dedicated to promoting social inclusion through shared sports training and competition by joining people with and without disabilities on the same team.
Young Athletes Play Days: This program focuses on fun, the development of motor skills and hand-eye coordination for children ages two to seven and serves as an introduction to the world of Special Olympics.
Learn more about how your company or organization can partner with Special Olympics Iowa, contact:
Stuart Steffy, Vice President of Development
515-986-5520