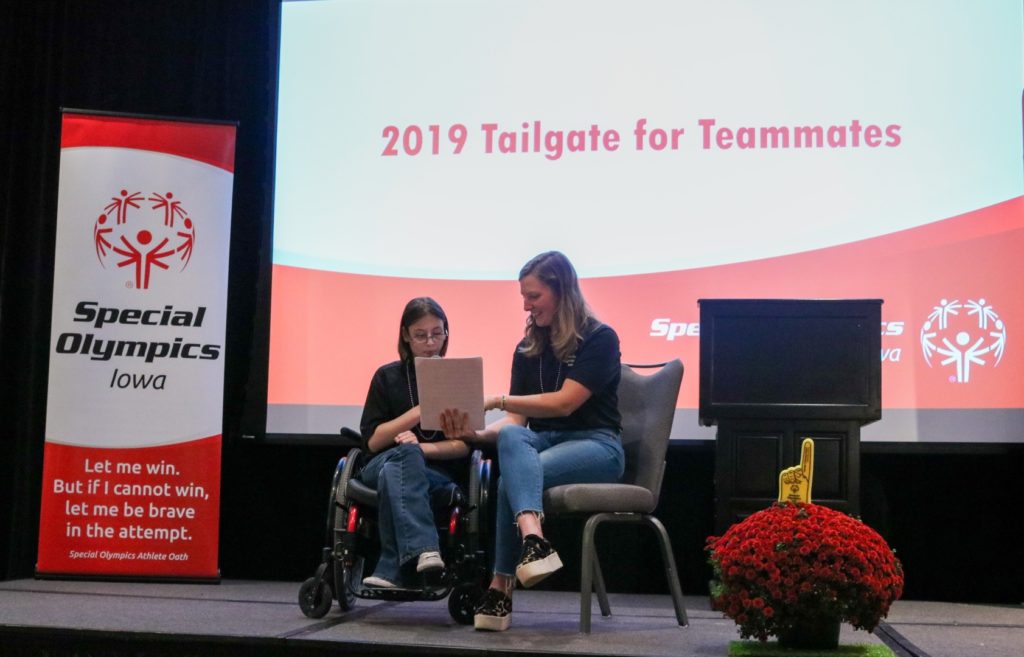 The Athlete Leadership program (ALP) is designed to educate and train individuals with intellectual disabilities in literacy, leadership, and speaking skills. Skills developed during the various training workshops provide the athletes with opportunities to gain self-confidence and self-esteem both for themselves and for the thousands of Iowans with intellectual disabilities they represent.
Through organized training and practical experiences, Athlete Leadership Program prepares athletes for meaningful positions of influence and leadership throughout the Special Olympics organization, both on and off the playing field.
Athlete Leadership Conference 
The Athlete Leadership Conference has three tracks – Global Messenger training, Athlete Leadership training, and Advance Athlete Leadership training.  The Athlete Leadership Conference is a two-day event.
During Global Messenger training, athletes learn to write speeches and learn techniques on delivering a speech.  Each athlete has a speech coach and, together, work to organize the athlete's thoughts and experiences about Special Olympics, as well as their own personal stories, on paper.  Athletes in the Global Messenger program gain self-confidence and self-esteem as well as valuable skills for day-to-day activities in their communities.
The Athlete Leadership trainings give athletes the opportunity to participate in programming, form opinions, join in group discussion, and learn techniques for gathering input regarding Special Olympics.   Athletes are given problems or ideas to solve or create and the tools needed to reach a goal or find a solution.  The ultimate goal of the training is to give our athletes the tools needed to have a voice in our programs as well as provide the skills needed to serve on boards or committees.
There are no costs for the conference. Special Olympics Iowa will provide hotel accommodations and meals for participants and coaches who require overnight accommodations.
Global Messenger Handbook
Athlete Leadership Handbook
Athlete Leadership Reporting Form
Athlete Code of Conduct Incident Report
Athlete Input Council
The Athlete Input Council is a forum for athletes to report to other athletes and program leaders what is happening in their areas. Athletes have the opportunity to voice their opinions about important issues and gain leadership training and experience.  Each area should have representatives that sit on the council for a two–year term.
On the local level, each area will have an ALP Input Council.  Each will operate much like a program-wide council but focus on area issues.  The area councils allow athletes more opportunities to become involved in all aspects of Special Olympics operations on a personal level.
For additional information on athlete leadership programming, contact:
Krista Smith, Director of Unified Programs
515-986-5520
Athlete Leadership Sponsors