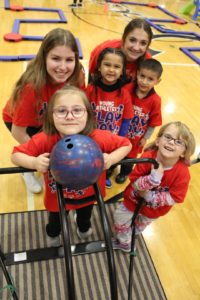 Special Olympics Young Athletes is a sport and play
program for children with and without intellectual
disabilities (ID), ages 2 to 7 years old. Young Athletes introduce basic sport skills, like running, kicking and throwing. Young Athletes offers families, teachers, caregivers and people from the community the chance to share the joy of sports with all children. Children of all abilities take part, and they all benefit.
Children learn how to play with others and develop
important skills for learning. Children also learn
to share, take turns and follow directions. These
skills help children in family, community and school
activities.
Young Athletes is a fun way for children to get fit. It is important to teach children healthy habits while they are young. This can set the stage for a life of physical activity, friendships and learning.
Young Athletes is easy to do and fun for all. It can be done at home, in schools or in the community using the Young Athletes Activity Guide and basic equipment.
Through Young Athletes, all children, their families and people in the community can be part of an inclusive team.
An Introduction to Special Olympics
Young Athletes Play Days are a wonderful introduction to Special Olympics. Children participate in 11 different activities, representing 11 different sports offered by Special Olympics. The program helps increase the young children's strength and coordination for sports while introducing them to group play, cooperation and awareness of rules.
Young Athletes Play Days are held throughout the state in the following cities:
Cedar Falls
Cedar Rapids
Central Lee
Council Bluffs
Davenport
Des Moines
Dubuque
Muscatine
Oskaloosa
Spirit Lake
West Des Moines
More locations are always being added!
Young Athletes Family Flashcards
Do you have a young athlete that you are introducing sport skills to? The Young Athletes Family Flashcards are a great resource that guides you through building healthy habits and key skills through play.
Young Athletes Family Flashcards  
Young Athletes Brochure
For more information on Young Athletes Play Days or to start a Play Day in your area, contact:
Krista Smith, Director of Unified Programs
515-986-5520
Events
Event Date
Event
Entries due by
Event Location

Dec 6 (all day)

North Area Young Athletes

Bedell Family YMCA (1900 41st Street, Spirit Lake, IA 51360)

Feb 2 (all day)

River Hills Young Athletes

River Hills School (2700 Grand Blvd, Cedar Falls, IA 50613)

Feb 16 (all day)

Council Bluffs Young Athletes

Jefferson High School (2501 W Broadway, Council Bluffs, IA 51501)

Mar 21 (all day)

West Central Area Young Athletes

Valley Community Center (4444 Fuller Rd, West Des Moines, IA 51265)