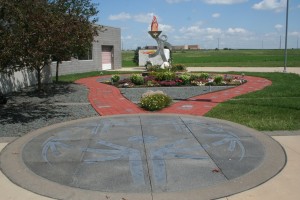 The Walkway of Champions is located at the Special Olympics Iowa Richard O. Jacobson Headquarters and Training Center in Grimes, and is designed like an Olympic Medallion and ribbon that Special Olympics athletes are proud to wear.
Inside the ribbon is the Tom Dunphy Memorial Garden which contains the cauldron used in the first-ever Special Olympics USA National Games held in Ames in 2006.
The Walkway of Champions offers you the opportunity to purchase a brick or granite paver (three sizes) which will be placed within the brick ribbon. Purchasing a paver allows you to create a lasting memory for your family, or honor an athlete, coach, volunteer, teacher or friend. Your name, or that of someone you wish to recognize, engraved on one of our brick or granite pavers will signify for years to come that you care about helping people with intellectual disabilities and their families.
For more information, contact:
Stuart Steffy, Vice President of Development
515-986-5520