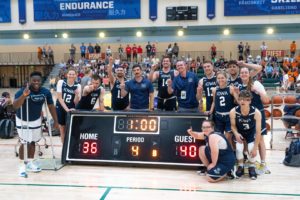 Dedicated to promoting social inclusion through shared sports training and competition experiences, Special Olympics Unified Sports® creates an opportunity for people without intellectual disabilities to join in the sports experience by playing on a team with athletes with intellectual disabilities. It was inspired by a simple principle: training together and playing together is a quick path to friendship and understanding.
In Unified Sports, teams join people of similar age and ability, which makes practices fun and games challenging and exciting for all. Teams are made up of approximately equal numbers of Special Olympics athletes and athletes without intellectual disabilities (called partners). Practicing and competing together is one additional way of eliminating preconceived notions and false impressions.
Participation in Unified Sports® leads to new friendships, improved self-esteem and positive changes in attitude, behavior and performance. The program creates a lasting impact on all those participating and is a great addition to formal and life education.
Special Olympics Iowa Offers Unified Sports Competition in:
| | |
| --- | --- |
| Athletics (Track and Field) | Basketball |
| Bocce | Bowling |
| Cheerleading and Dance | Cycling |
| Figure Skating | Flag Football |
| Golf | Snowshoeing |
| Soccer | Softball |
| Speed Skating | Swimming |
| Tennis | Volleyball |
Unified Collegiate Intramurals Offered:
Basketball (University of Iowa)
Flag Football (University of Iowa)
Rowing (University of Iowa)
Volleyball (University of Iowa)
Registration Links:
*We will add new registration links for events as the event gets closer!
For more information about Unified Sports and Unified Collegiate Intramurals, contact:
Krista Smith, Director of Unified Programs
515-986-5520
Events
Event Date
Event
Entries due by
Event Location

Jul 15 (all day)

Dubuque Unified Golf

06/23/2023

Derby Grange Golf and Rec

Jul 26 (all day)

Vinton Unified Golf

06/23/2023

Vinton Skate and Activity Center

Aug 6 (all day)

Spencer Unified Golf

07/23/2023

Spencer Municipal Golf

Sep 6 (all day)

Muscatine Unified Golf

Muscatine Municipal Golf Course (1820 IA-38, Muscatine, Iowa)

Sep 7 (all day)

Davenport Unified Golf

Red Hawk Golf Course (6364 Northwest Blvd, Davenport, Iowa)

Sep 9 (all day)

Cedar Rapids Unified Golf

08/16/2023

Twin Pines

Sep 16 (all day)

Jester Park Unified Golf

08/23/2023

Jester Park

Sep 23 (all day)

Sioux City Unified Golf

08/30/2023

Sun Valley Golf