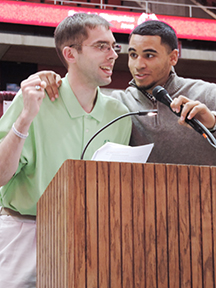 Special Olympics Iowa (SOIA) offers people with intellectual disabilities much more than sports competition. Through programs like Unified Sports®, Young Athletes Play Days, Healthy Athletes®, and Athlete Leadership, SOIA provides athletes with educational opportunities and experiences that build their confidence and self-esteem.
Current Virtual Special Program Opportunities
Team Fit
Team Fit encourages athletes to continue pursuing their health, fitness, and sports goals by completing daily focused activities. The program builds Unified communities and provides content that athletes can access and work through within their homes while they are away from their typical Special Olympics sports practices.  The eight-week program is available to those with and without technology access as program materials will be available both online and in printed format.
Click here for more information on Team Fit!
Virtual Activities Held by SO College Clubs
In-person activities might be on hold, but that is not stopping our College Clubs.  College Clubs from across the state are holding a variety of virtual activities over the coming months.
Click here to view the list of upcoming activities! 
Virtual College Championship Week
Virtual College Championship Week is an opportunity for colleges to show their commitment to inclusion across three categories – Unfieid sports, inclusion events and social media.  Colleges will complete different inclusive virtual activities during the week of April 12-16, 2021 to score points. The team with the most points at the end of the week will be the National College Champion.
*Teams from any college can register!  All students, staff, and campus community members can participate!
For more information about Virtual College Championship Week, click here!