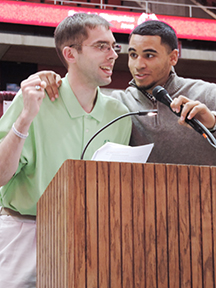 Special Olympics Iowa (SOIA) offers people with intellectual disabilities much more than sports competition. Through programs like Unified Sports®, Young Athletes Play Days, Healthy Athletes®, and Athlete Leadership, SOIA provides athletes with educational opportunities and experiences that build their confidence and self-esteem.
Upcoming Programs and Events
Lead Up Fitness Challenge
This challenge will prepare athletes, Unified partners and coaches for upcoming competitions by focusing on getting one million steps in 20 weeks.  The challenge will utilize a brand new Special Olympics fitness app, SO FitNow. This app (also available in website form) will sync to most step tracking devices, including Fitbits and Apple watches. It also has a manual feature where you can report on walking as well as convert other exercise activities to count towards steps. This means you can get steps for things like swimming, dancing, online workout videos, and more. Plus, the app will keep you updated on your road to 1 million! There will also be Fit 5 exercise videos and Strong Minds meditations for access right within the app/website. Let's STEP it into gear and return stronger than ever!
Challenge Runs: January 10-May 29
Upcoming Young Athletes Play Days
Council Bluffs (Friday, February 18)
West Central Area  (Tuesday, March 22)
Spirit Lake/Okoboji (Tuesday, March 29)
Woodlawn Education Center  (Friday, April 29)