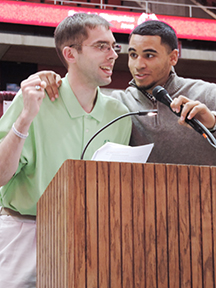 Special Olympics Iowa (SOIA) offers people with intellectual disabilities much more than sports competition. Through programs like Unified Sports®, Young Athletes Play Days, Healthy Athletes®, and Athlete Leadership, SOIA provides athletes with educational opportunities and experiences that build their confidence and self-esteem.
Current Virtual Special Program Opportunities
Fall Unified 5K Training
Special Olympics Iowa will be running, walking, and rolling again this fall with our Unified 5K program! All athletes, family members, coaches, neighbors, and friends that register will receive a training guide and tips for conquering the 5K distance. Special Olympics Iowa is partnering with the IMT Des Moines Marathon to provide a race day opportunity for athletes that are able to come to Des Moines for the Principal 5K to compete with an assigned Unified partner. There will be organized opportunities to communicate and potentially train with your partner throughout the program. We challenge you to train hard and set new personal bests!
Training runs August 30 – October 17, 2021
Click here to register!
2021 Unified Golf Tour
Special Olympics Iowa will be holding a 9-stop Unified golf tour this summer and fall. The Unified golf tour will pair individuals with intellectual disabilities with Unified partners (golfers without intellectual disabilities) to compete in a team environment. Golf pairs will bring together individuals of similar age and ability, making the day fun and challenging for all. Several skill levels are offered to accommodate all skill levels.  There is no charge to participate. All participants will receive lunch and a tour t-shirt. Awards will be given out at the end of play.
Click here for more information and to register!