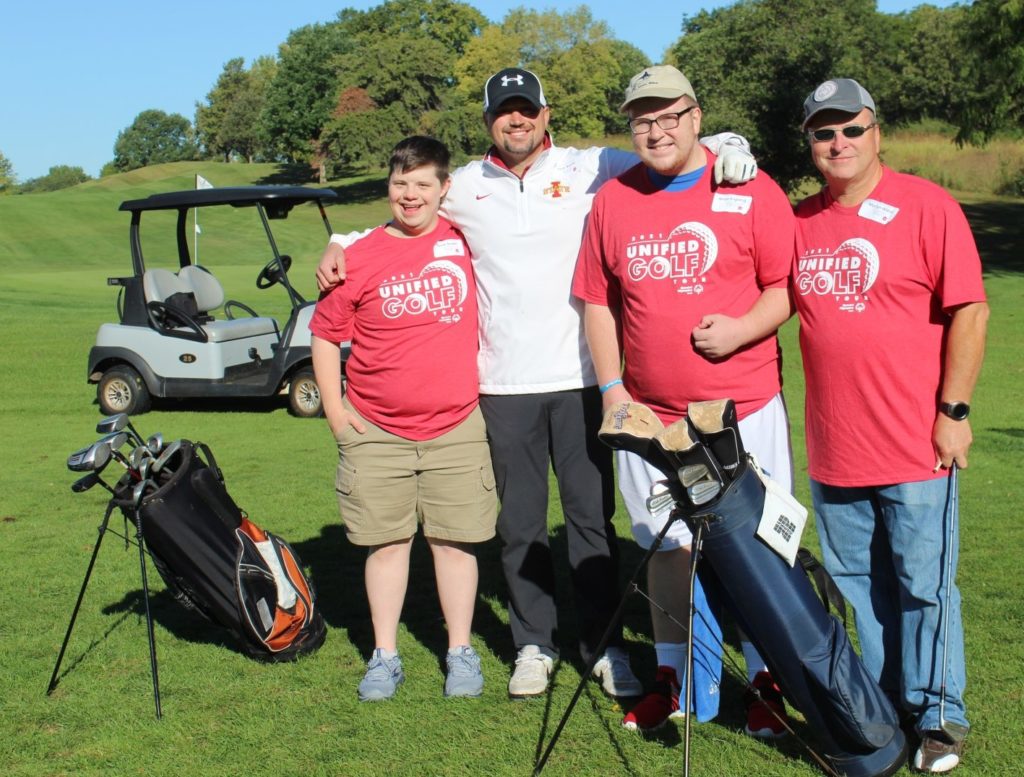 Special Olympics Iowa Unified Golf pairs individuals with intellectual disabilities with Unified partners (golfers without intellectual disabilities) to compete in a team environment. Unified Sports are crucial to our mission as they promote inclusion and friendship for all.
Several skill levels are offered to meet the skill level of any athlete:
9-hole: Pro (knows the game and skills for a full golf game)
6-hole: Intermediate (knows the basics of golf but still improving skills)
3-hole: Beginner (just learning the game of golf)
There is no charge to participate.  Lunch and water will be provided along with a tournament t-shirt and awards at the end of play.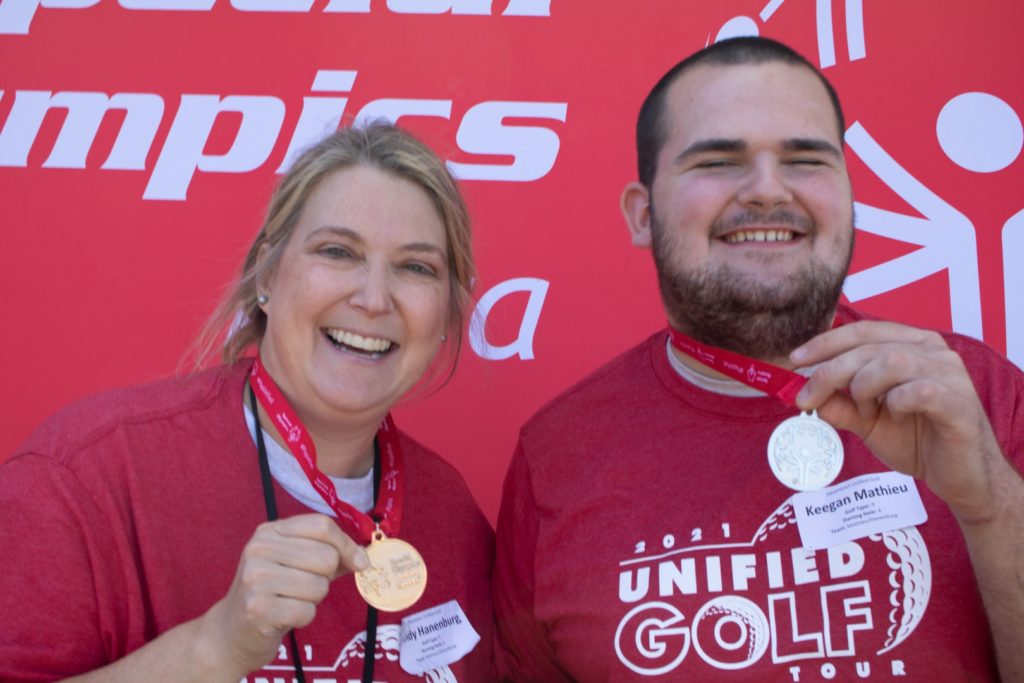 Unified Golf events are held in:
Sioux City
Cedar Rapids
Davenport
Dubuque
Granger
Muscatine
Spencer
Vinton
Important Links
Golf Rules
Shortened Golf Rules
2023 Unified Golf Tour
Dubuque (9 Hole & Mini Golf)
Date: July 15, 2023
Location: Derby Grange Golf & Recreation
Registration: 9-Hole  |  Mini Golf
Spencer (3 Hole, 6 Hole, and 9 Hole) 
Date: August 6, 2023
Location: Spencer Municipal Golf Course (1320 4th Ave. SW, Spencer, Iowa)
Registration: 3-Hole  |  6-Hole   |  9-Hole
Vinton (Mini Golf)
Date: August 26, 2023
Location: Vinton Skate & Activity Center (1703 C Ave., Vinton, Iowa)
Registration: Mini Golf
Muscatine (9 Hole)
Date:  September 6, 2023
Location: Muscatine Municipal Golf Course (1820 IA-38, Muscatine, Iowa)
Registration: Contact Krista Smith to register
Davenport (3 Hole, 6 Hole, and 9 Hole) & Bocce
Date: September 7, 2023
Location: Red Hawk Golf Course (6364 Northwest Blvd, Davenport, Iowa)
Registration: 3-Hole  |  6-Hole   |  9-Hole   |  Bocce
Cedar Rapids (9 Hole & Mini Golf) 
Date: September 9, 2023
Location: Twin Pines Golf Course (3800 42nd Street NE, Cedar Rapids, Iowa)
Registration: 9-Hole  |  Mini Golf
Granger (9 Hole & Mini Golf)
Date: September 16, 2023
Location: Jester Park Golf Course (11949 NW 118 Ave., Granger, Iowa)
Registration: 9-Hole  |  Mini Golf
Sioux City (9 Hole)
Date: September 23, 2023
Location: Sun Valley Golf Course (2101 Military Road, Sioux City, Iowa
Registration: 9-Hole
For more information about Unified Sports, contact:
Krista Smith, Director of Unified Programs
515-986-5520