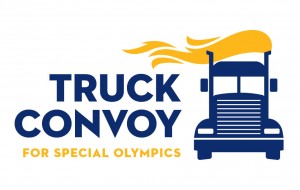 Truck Convoy for Special Olympics is a national one-day celebration of the trucking industry, allied partners and law enforcement all working together to help raise money for Special Olympics Iowa.
Iowa's law enforcement officers escort the Convoy from Veterans Parkway (exit 101 off Highway 5) and travel 20 miles to the Iowa State Fairgrounds. Special Olympics Iowa athletes and families, community organizations, companies and law enforcement agencies welcome the truckers as they enter the fairgrounds for lunch and a celebration with awards to recognize participating truckers for the support they give to Special Olympics.
Event Details
Date: 2020 TBA
Location: Veterans Parkway to Iowa State Fairgrounds (celebration at Jalapeno Pete's) – Des Moines
Cost: $100 per participant

Additional Details: Trucks welcome in the Convoy include semi-trucks, truck/trailer combinations, fire trucks, dump trucks, flat beds, buses, large tow trucks, large box trucks, etc.  All trucks must be 10,000-pound GVW or larger.  Hazardous materials or trucks with alcohol/tobacco names or logos are not permitted (bobtail ok).
Schedule of Events                                                                                                                          8-10 a.m. – Registration/Check-in
Veterans Parkway (Exit 101 on Highway 5)
10 a.m. – Mandatory drivers' meeting
10:15 a.m. – Live auction for lead truck spots
10:30 a.m. – Convoy begins!
11:30 a.m. – Ending celebration at the Iowa State Fairgrounds
For more information, contact:


Rachel Bosworth, Law Enforcement Torch Run Marketing and Event Manager
Law Enforcement Torch Run® Sponsors