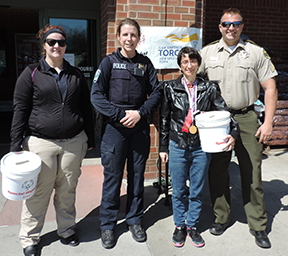 Cop on Top® events can be held at any popular retail or grocery store in your community.  Law enforcement officers and volunteers are stationed at store entrances and collect donations from store patrons.  Volunteers that assist law enforcement officers may be civic organizations, schools, family and friends.

Throughout the year, local Law enforcement pair up with Walmart's across the state of Iowa and collect donations. Stop by and support Law Enforcement Torch Run and Special Olympics by donating! Check back for updated 2017 dates.
July 21-23 (Grimes)
August 18-20 (Iowa City)
April 2017 (West Des Moines)
April 2017 (Windsor Heights)
May 2017 (Des Moines)
May 2017 (Altoona)
June 2017 (Ankeny)

Join us on September 8th, 2017 at your local Dunkin' Donuts from 6 a.m. to 11 a.m. Make a donation and get a free coffee coupon WHILE supporting Special Olympics Iowa!
CLICK HERE FOR THE 2017 STORE LOCATIONS
If you are interested in having a Cop on Top® fundraiser in your community, contact:
Jeanette Steinfeldt, Director of Development
515-986-5520 x107