The Spring Classic sees competition in basketball, basketball skills, cheerleading, gymnastics and powerlifting. Healthy Athletes® screenings are also provided to athletes by healthcare professionals for dental, hearing, overall health and fitness and more. The Spring Classic is held each March in the Coralville/Iowa City area.
Event Details
Date: March 9, 2024
Location: Coralville/Iowa City Area
All entries Due: February 16, 2024
Registration Links
Basketball Skills (Please send Delegation report with scratches marked clearly to registrations@soiowa.org)
General Registration (Housing & Meals):
Cheer and Dance Registration: Fillable PDF
Gymnastics Registration: Fillable PDF
Powerlifting Registration: Fillable PDF
Event Links
Spring Classic Handbook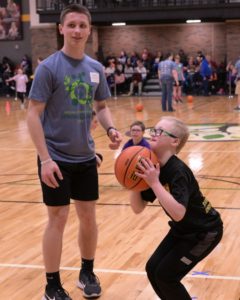 Spring Classic Competitions
An athlete may compete in one sport at Spring Classic (click on the sport name for official rules):
Basketball

Basketball Skills
Team Competition
Half-Court Competition 3-On-3

Cheerleading
Gymnastics – Artistic (Men and Women)

Woman Events:

Balance Beam Level I, II and III
Floor Exercise Level I, II, III and IV
Vault Level I, II and III
Uneven Bars Level I, II and II

Men Events:

Floor Exercise Level I, II and III
Parallel Bars Level I and II
Vault Level I and II
Horizontal Bar Level I
Pommel Horse Level I
Rings Level I

Men and Women Events:*

Level A and B Vaulting
Level A and B Balance Beam
Level A and B Floor Exercise
Level A and B Single Bar
*Level A and B competitors may need manual assistance to perform these routines.