Special Olympics Iowa has made the very difficult decision to cancel the 2020 Summer Games due to coronavirus (COVID-19).
The Summer Games are Special Olympics Iowa's largest event of the year, with more than 2,600 athletes 1,200 coaches and 2,000 volunteers converging on the campus of Iowa State University in Ames. The three-day event begins with the Torch Run Final Leg bringing the Flame of Hope from downtown Des Moines to Hilton Coliseum for the Opening Ceremony presented by Hy-Vee.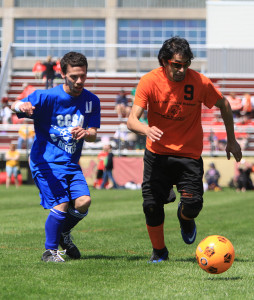 Also featured at the games is an Olympic Festival, which is an area for athletes to relax between competitions and interact with sponsors and partners through games and activities. Healthy Athletes screenings will also be provided to athletes by healthcare professionals for eyesight, dental, hearing, overall health and fitness and more.
Event Details
Date: May 21-23, 2020 (CANCELLED)
Registration Deadlines: May 1, 2020  Location: Iowa State University, Ames
Summer Games Competitions
An athlete may compete in one sport per day (click on the sport name for official rules):
Swimming

25 yard Freestyle
50 yard Freestyle
100 yard Freestyle
200 yard Freestyle
25 yard Backstroke
50 yard Backstroke
100 yard Backstroke
25 yard Breaststroke
50 yard Breaststroke
25 yard Butterfly
50 yard Butterfly
100 yard Individual Medley
100 yard Freestyle Relay
15 yard Floatation Race
25 yard Floatation Race
PLEASE NOTE: Area Swimming Competitions Requirement 

Athletics
Bocce

Singles
Skills
Team (four-person)

Cycling – Athletes may choose two events. Athletes in modified events may not enter other trials. Athletes in Unified events may not enter other events.
Developmental Events
Soccer

Team (seven-person)
Soccer Skills

Dribbling
Shooting
Run and Kick

Tennis – An athlete may enter two tennis events:

Singles
Doubles
Mixed Doubles
Unified Doubles
Individual Tennis Skills