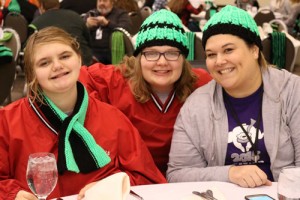 The Special Olympics Scarf Project began with the World Winter Games in Boise, Idaho, in 2009. The goal was to provide each athlete with a new scarf they would proudly wear during the event. While the Scarf Project concluded nationally in 2012, many states, including Iowa, continue the project on their own.
New colors are chosen each year and the project has expanded to include hats, headbands and mittens. The design is up to you!
2024 Scarf Project:
Goal: 600 items
Deadline: December 22nd, 2023
Colors: Neon (fluorescent, eye-catching, vivid, bright, etc. colors)

Finished items should be washed and mailed to:
Special Olympics Iowa
PO Box 620
551 SE Dovetail Rd.
Grimes, IA 50111
For more information on the Scarf Project, contact the state office at info@soiowa.org or 515-986-5520.