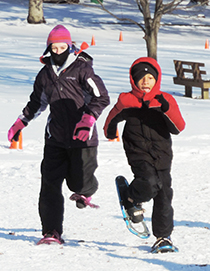 Cold weather, snow, ice, mountains…nothing can stop our athletes from speeding down the slope, running through the snowshoe course or skating around the rink. Dubuque plays host to more than 350 athletes and 150 volunteers for the two-day Winter Games. With accommodations at the Grand Harbor Resort and Waterpark, athletes, coaches and families have plenty of choices for winding down after competitions.
Event Details
Due to the ongoing pandemic, the 2021 in-person Winter Games have been moved to a virtual setting.
Click here for more information on the 2021 Virtual Winter Games!
Volunteer
Winter Games Competitions
An athlete may compete in one winter sport, competing in two events (click on sport name for official rules)