The Summer Games are Special Olympics Iowa's largest event of the year, with more than 2,600 athletes 1,200 coaches and 2,000 volunteers converging on the campus of Iowa State University in Ames. The three-day event begins with the Torch Run Final Leg bringing the Flame of Hope from downtown Des Moines to Hilton Coliseum for the Opening Ceremony presented by Hy-Vee.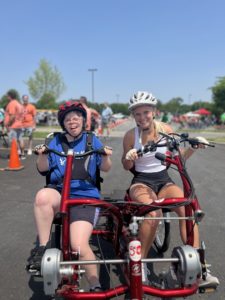 Also featured at the games is an Olympic Festival, which is an area for athletes to relax between competitions and interact with sponsors and partners. Healthy Athletes screenings are provided to athletes by healthcare professionals for eyesight, dental, hearing, overall health and fitness and more.
Event Details
Click here to see Summer Games Details!
Summer Games Frequently Asked Questions
Dates: May 16-18, 2024
Location: Ames
All entries Due: April 26, 2024
Event Results
Event Links
Summer Games Handbook
Summer Games Registration Forms
Helpful Documents
Coach/Volunteer Roster
Tennis Rating Sheet
Soccer Skills Scoresheet
Team Soccer Skills Assessment
Cycling Bike Inspection Form
Bocce Assessment
Little Feet Meet
Young Athletes is a program that introduces children ages 2 to 7 to basic sports skills. It helps increase children's strength and coordination while learning group play and cooperation. The Little Feet Meet is an inclusive opportunity for Young Athletes with and without intellectual disabilities to participate in track and field events at our state Summer Games competition.
Click here to register your young athlete!
Summer Games Competitions
An athlete may compete in one sport per day (click on the sport name for official rules):
Bocce

Singles
Skills
Team (four-person)

Cycling – Athletes may choose two events. Athletes in modified events may not enter other trials.

250M Trial
250M Modified Trial
1K Trial
1K Modified Trial
1K Unified Tandem
5K Trial
5K Modified Trial
5K Unified Tandem
10K Trail
10K Unified Tandem

Developmental Events
Swimming

25 yard Freestyle
50 yard Freestyle
100 yard Freestyle
200 yard Freestyle
25 yard Backstroke
50 yard Backstroke
100 yard Backstroke
25 yard Breaststroke
50 yard Breaststroke
25 yard Butterfly
50 yard Butterfly
100 yard Individual Medley
100 yard Freestyle Relay
15 yard Floatation Race
25 yard Floatation Race
PLEASE NOTE: Area Swimming Competitions Requirement 

Tennis – An athlete may enter two tennis events:

Singles
Doubles
Mixed Doubles
Unified Doubles
Individual Tennis Skills