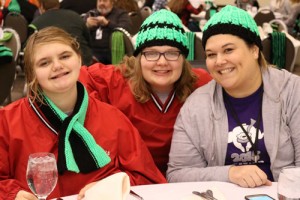 The Special Olympics Scarf Project began with the World Winter Games in Boise, Idaho, in 2009. The goal was to provide each athlete with a new scarf they would proudly wear during the event. While the Scarf Project concluded nationally in 2012, many states, including Iowa, continue the project on their own.
New colors are chosen each year and the project has expanded to include hats, headbands and mittens. The design is up to you!
Project Details
Goal: 600 items
Current Count: 614! We have reached our goal! THANK YOU to those who donated!
Deadline: November 1, 2016
2016 Colors: Tangerine and Silver (Red Heart Classic Yarn)
JoAnn Fabrics & Fabric.com have these colors. Other brands and colors that will work are Red Heart Soft Yarn in Light Grey Heather and Tangerine, Red Heart Classic Yarn in Nickel, Caron Simply Soft in Neon Orange, Loops & Threads Impeccable in True Grey and Orange Crush and I Love This Yarn Sport Weight in Greybeard and Orange. If you are unable to find an exact match, please pick an bright orange or light gray that is close.

Finished items should be washed and mailed to:
Special Olympics Iowa
PO Box 620
551 SE Dovetail Rd.
Grimes, IA 50111
For more information on the Scarf Project, contact:
Laura Reed, Office Administrator
515-986-5520 x101