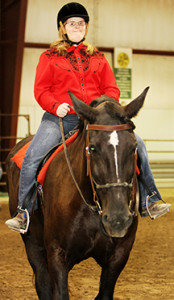 The SOIA State Equestrian Competition will be held at the Jester Park Equestrian Center in Granger Sept. 26. Please note the change of date and location.
Athletes from across the state will compete in events including horsemanship, egg and spoon, barrel race, ball drop, key hole race, pole bending and baton relay. Balance, stability and the right communication between the horse and the rider are key elements for success.
Kayla Craun has been an equestrian athlete since 2011 and says her favorite part about Special Olympics is riding horses.