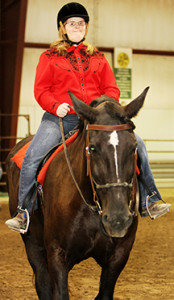 The SOIA State Equestrian Competition will be held at the Jester Park Equestrian Center in Granger Sept. 26. Please note the change of date and location.
Athletes from across the state will compete in events including horsemanship, egg and spoon, barrel race, ball drop, key hole race, pole bending and baton relay. Balance, stability and the right communication between the horse and the rider are key elements for success.
Kayla Craun has been an equestrian athlete since 2011 and says her favorite part about Special Olympics is riding horses.
"I have worked with a horse named Lakota at the Cedar Falls Equestrian Center for many years," said Craun. "This year was my first year with a horse named Dude. His owner (Allie Allspach) is really nice for letting me work with him."
Craun also trains with the Aspire Therapeutic Riding Prigram, where she competes tasks such as delivering mail on horseback. The training has helped her in competitions like Special Olympics and the Blackhawk County 4H Fair.
The Opening Ceremony will begin at 9:30 a.m. with competition beginning at 10 a.m. The event is free and open to the public. We encourage everyone to come out and cheer on our athletes.
Registration forms are due to the state office by Aug. 14. In order to compete in the State Equestrian Meet, an athlete's Application for Participation must be valid through Sept. 27, 2015.