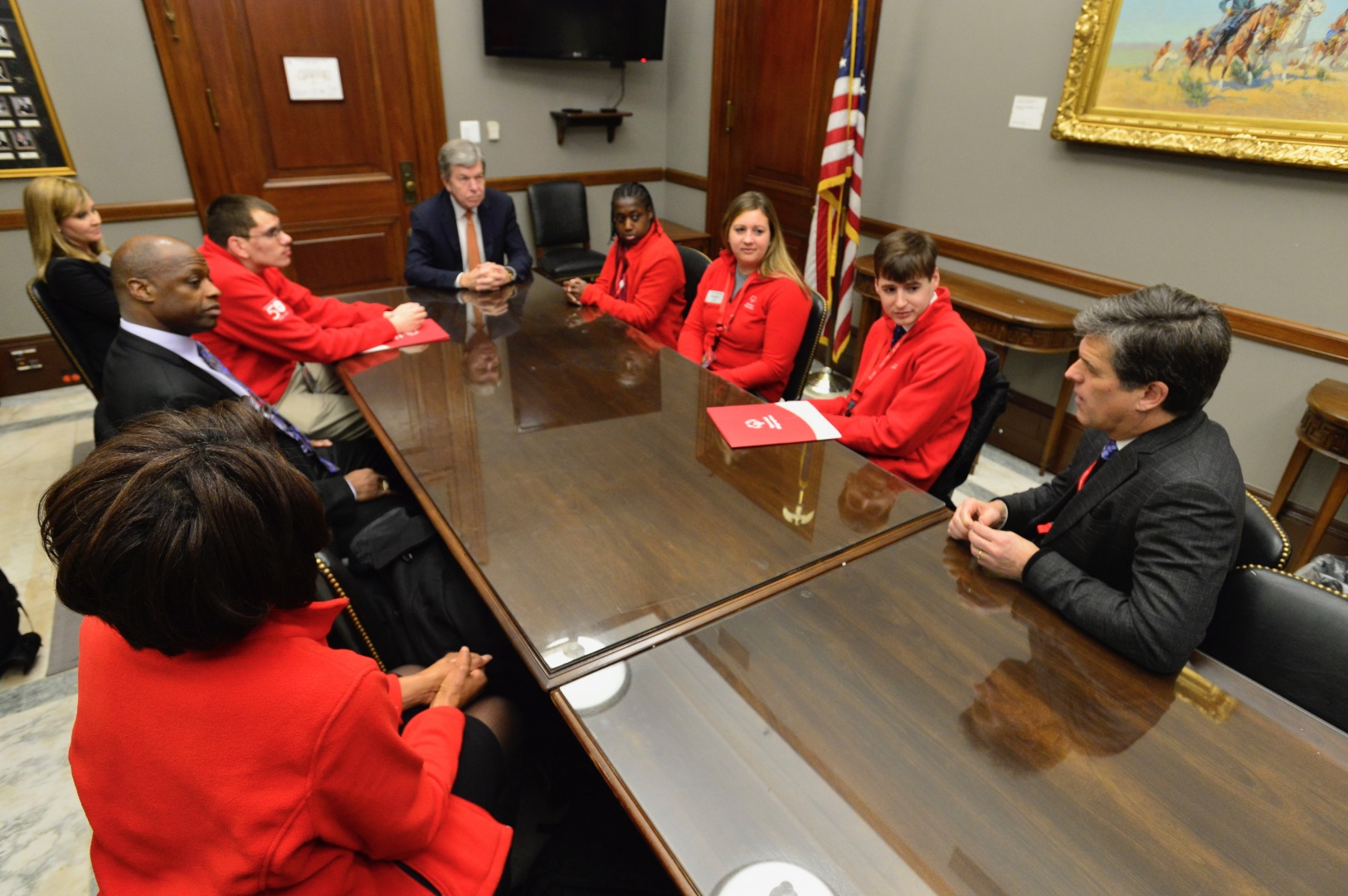 Special Olympics athletes, Program leaders, Unified partners, and family members from all 50 states and the District of Columbia converged on Capitol Hill in Washington, D.C. on February 13 for Special Olympics' annual "Capitol Hill Day." This was the first time in the 16-year history of Capitol Hill Day in which all 50 states were represented, honoring the organization's 50th Anniversary.
Special Olympics athletes held more than 250 face-to-face meetings with Members of Congress in both the House and Senate, challenging and inviting their elected officials to partner with them to achieve the goals of expanding Special Olympics Unified Sports and Unified Champion Schools programming, and to end health care disparities and discrimination against the 15 million persons with intellectual disabilities in America by supporting inclusive health initiatives.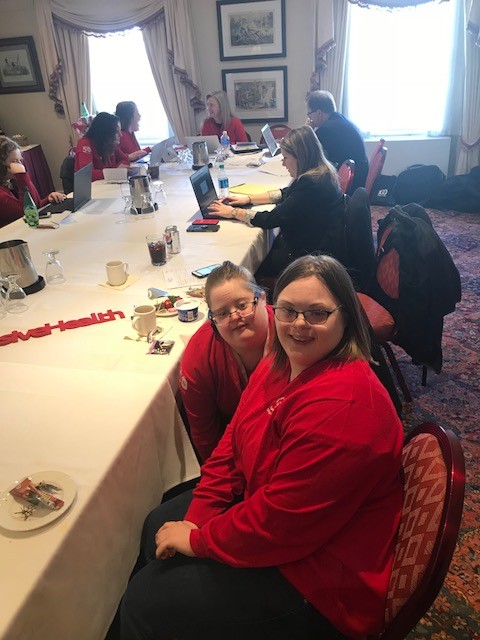 Special Olympics athletes, serving as self-advocates, educated lawmakers and their staff about the significant consequences that arise from the stigma and stereotypes faced by people with intellectual and developmental disabilities. They described how that impacts their lives in the areas of sports, health care and education. The goals of Capitol Hill Day were to effectively convey the high impact and cost-effectiveness of Special Olympics' evidence-based programming that addresses these issues, to educate lawmakers and to secure continued support from legislators.
Iowa athlete Abbie Kliegl attended meetings with lawmakers and represented her fellow Iowa athletes on Capitol Hill Day. Abbie has been involved with Special Olympics for many years. She serves as a Global Messenger and participates in sports like cycling and cheerleading and dance. Abbie is also a dedicated volunteer for SOIA. She volunteers at many of the SOIA fundraising events like Polar Plunges, Plane Pull, and Tailgate for Teammates in the Des Moines area.
"No one can better articulate a vision for how America can become a more inclusive nation or demonstrate what it means to unite and come together than the athletes and Unified partners of Special Olympics" said Tim Shriver, Chairman of Special Olympics. Shriver added, "Our athletes and youth leaders will lead us into the next 50 years of our fight to end discrimination for people with intellectual disabilities, but we can't do it alone. We need governmental support to preserve laws that guarantee the rights and full participation and integration of people with intellectual disabilities into our society."
A member of the Pro Football Hall of Fame and former Washington Redskins legend, Darrell Green, joined Shriver, Special Olympics Global Ambassador Dale Moss, and Special Olympics athletes to urge Members of Congress to make the ideals of inclusion a reality.
Green said, "I am honored to join Special Olympics athletes and leaders from across the nation for the annual Capitol Hill Day.  We are inspired by their personal stories and accomplishments.  We came away even more committed to ensuring that these amazing athletes, and individuals with intellectual disabilities across the nation, have our full support."
Following Capitol Hill Day, U.S. Senator Roy Blunt of Missouri was recognized during a reception. A long-time champion and advocate for Special Olympics, Blunt was honored by the constituents present with a signed poster and a Special Olympics sweater. "Over the past 50 years, Special Olympics has redefined what strength, determination, and courage look like in the world of sports," said Blunt. "All of the athletes, parents, coaches, and supporters here tonight have made our communities better, healthier, and more inclusive. Whether it's on the field or in the halls of Congress, you are powerful advocates for this organization and for all Americans with intellectual disabilities. I'm a proud supporter of Special Olympics and appreciate the opportunity to welcome you to Washington D.C."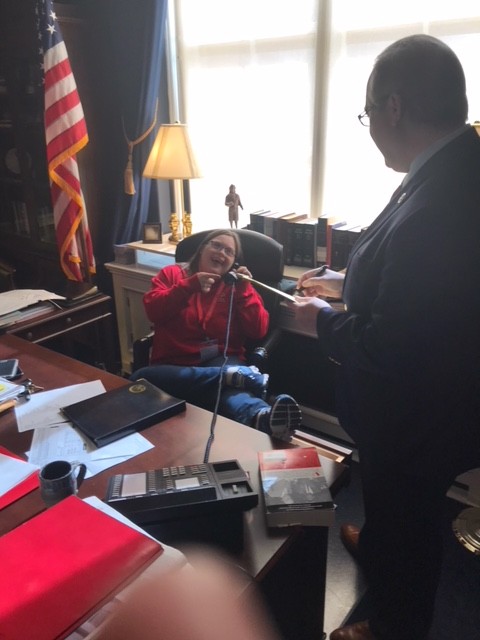 In more than 5,400 Unified Champion Schools across the country, Special Olympics has trained and mobilized youth leaders and educators to create more inclusive schools by including students with intellectual disabilities (ID) in all aspects of school life. Students with and without intellectual disabilities are also playing and competing together, on the same team, through Special Olympics Unified Sports. These experiences are helping to increase acceptance of all abilities to classrooms across the country, and are reducing stigma and bullying
Special Olympics offers free health events where Special Olympics athletes receive free health screenings and health education, and where health professional are trained and inspired to offer year-round health access to people with intellectual disabilities in their home communities. In the past 20 years, in the U.S. alone, Special Olympics provided over 58,000 health screenings and trained over 10,000 health care professionals. Globally, Special Olympics has provided over 1.9 million free health screenings in over 130 countries and trained over 220,000 health care professionals.
For every dollar provided by U.S. federal funds to the Special Olympics Health program, the organization is able to provide $7.42 in high quality health services to people with intellectual disabilities. Public and private support is critical to sustain Special Olympics' ability to continue to offer these programs to participants at no cost.