By: Julie Berns, SOIA athlete parent
When I first heard about Special Olympics Play Day for Young Athletes my daughter, Claire, was only three. I was skeptical. Claire was just a baby. She hung out with me at home and running errands, she wasn't involved in any structured sport. She has always been small for her age, even compared to other children with Down Syndrome, how would she compete?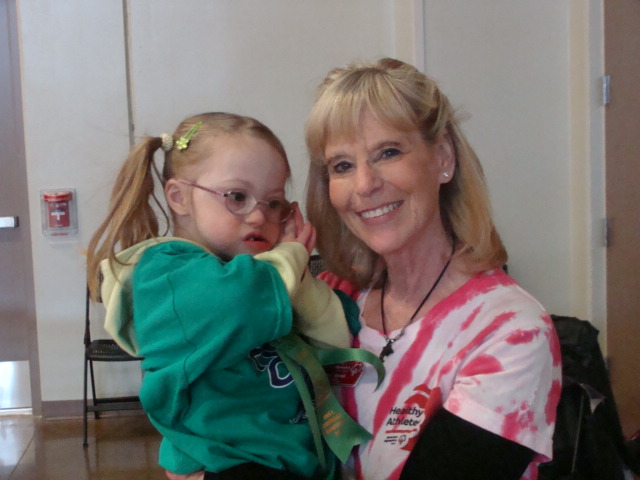 Being tiny has never slowed Claire down for a moment; she has always been a bundle of energy. So I let down my protective walls that I had been keeping her in, and I signed her up.
The building seemed to be a hive of activity when we first stepped in. People everywhere, yet it was an organized chaos. We got our T-shirts on and found Kathy, Director of Athlete Initiatives for Special Olympics Iowa (SOIA), and introduced her to Claire. Kathy scooped her up, chatted with her, and asked for a picture with Claire. This had become our tradition every year, find Kathy and take a picture!
Awesome is such an over-used word, but that was how it was for me walking in there; I was in awe. All of these people, laughter, cheers, smiles. No one was telling me that, "Down Syndrome people are always so happy." The only looks we got were smiles, we were totally accepted, and that is such a peaceful feeling.
Since Claire is absolutely her big brother's shadow, we brought Jack along to be Claire's coach. Jack held Claire's hand and walked toward her group. Once Claire was with her group she started to socialize, giving a hug to the young lady from Urbandale High School who was there volunteering as our group leader. We all had big smiles as she got to know her teammates.
Then the fun began.
As we started the activities I was still kind of unsure as to how this would go. I was silly to worry. Claire dove into the activities; Jack would show her how to do it and she was so excited to try them all! She loved all of the cheering and clapping, so did we. It didn't matter whose child was having a turn at an activity, we were all cheering them on! Claire loved trying—and really that's the long and the short of this—she just wanted to try.
Some of the activities she hadn't done before; balance beam, bowling, basketball, ball darts and dancing with the ribbons. Just to see her face light up as she attempted something new and heard all of those people cheering for her was absolutely priceless. When one of the other teammates had a turn she loved to yell and clap for them, too. Watching her realized I had been limiting her, maybe being a little overprotective. It was foolish of me. Watching her try her hardest and show some independence really showed me what an amazing daughter I have. She is a strong, courageous, lovely young lady.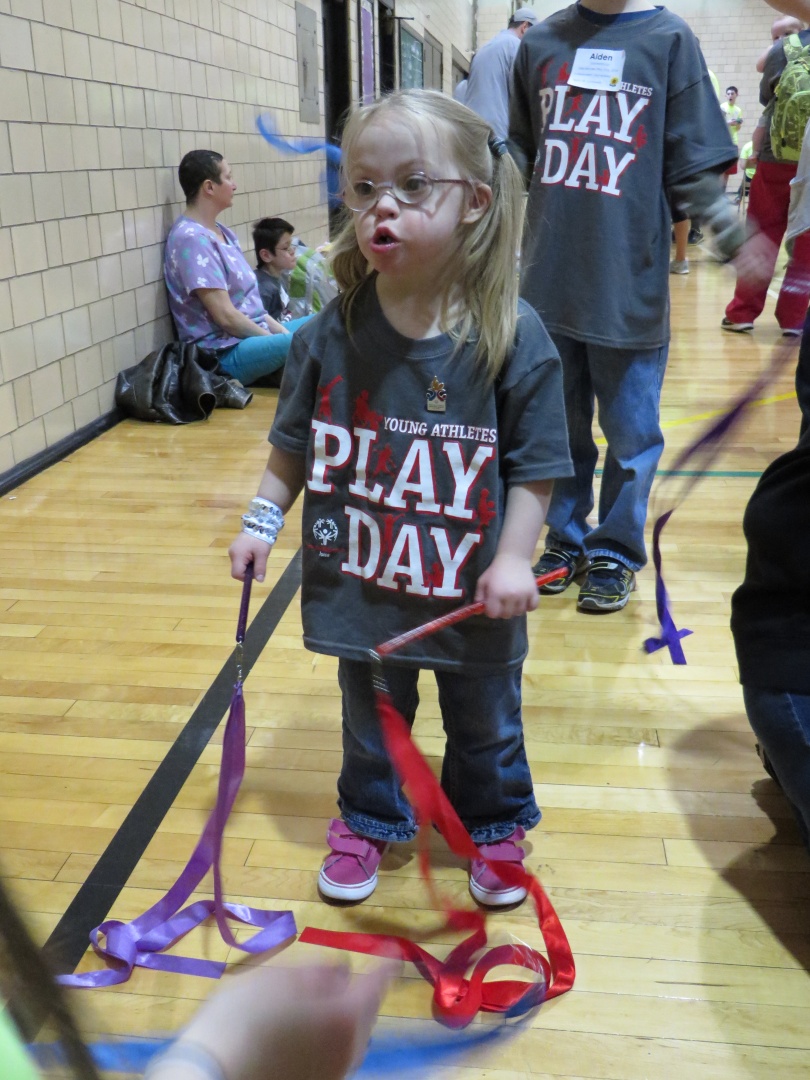 Claire continues to practice some of the activities she learned at Play Day in her daily playtime. She loves to dance; I just need to find those ribbons! When she is out in the driveway playing I watch her walking along the seam of the concrete, just like it's a balance beam! And there is no ball that she won't try to kick, throw, hit with a bat, or try to make a basket with. Who knows what's next: gymnastics, dance and little league?
She is fearless, and now her mom knows that there are no limits to her capabilities.