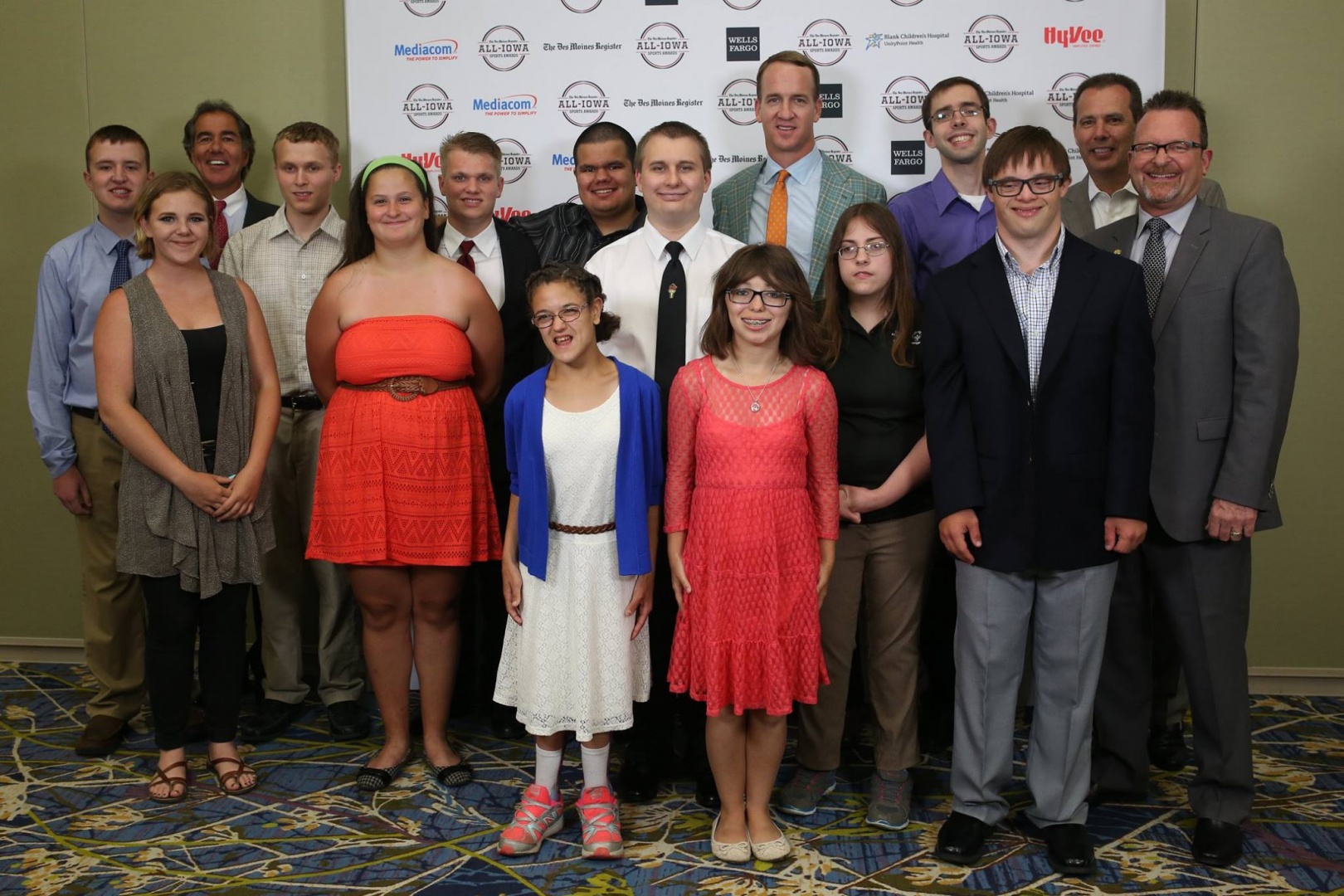 On Saturday, June 18, 12 Special Olympics Iowa athletes were spotlighted at the All-Iowa Elite Athletes Sports Awards Banquet by The Des Moines Register. The athletes chosen for the All-Iowa program represent the spirit of the Special Olympics Iowa movement and have gone above and beyond to show their dedication to sport and sportsmanship. They represent SOIA in competitions, service to their fellow athletes, and leadership within the organization and their community.
The banquet also featured keynote speaker Peyton Manning, who gave the SOIA athletes a special shout-out during his presentation and asked them to stand and be recognized as a group for their accomplishments.
Before the banquet athletes were given the opportunity to meet Manning and have a photo taken with him. "Our athletes were high-fiving and hugging one another and their parents, and their smiles were wide enough to knock down the walls of the room we were in," says SOIA CEO Gary Harms. "It was truly an amazing experience to witness." 
Additionally, two athletes were awarded Athlete of the Year honors. Mitchell Betsworth of Sioux City, Iowa was named the Male Athlete of the Year, while Meghan Nordstrom of Sharpsburg, Iowa was named the Female Athlete of the Year.
Below is a list of the 2016 SOIA Elite Athletes and photos from the event.
Congratulations to all!
2016 Special Olympics All-Iowa Elite Athletes: 
Dakota Williams (Unified Team), Lynn Singer (Unified Team), Austin Hora, Adam Rininger, Landon Gunderson, Meghan Nordstrom, Jacob Villagran-Blunk, Mitchell Betsworth, Amber Sir, Gage Porter, Bobby Argo and Rebecca Guion.