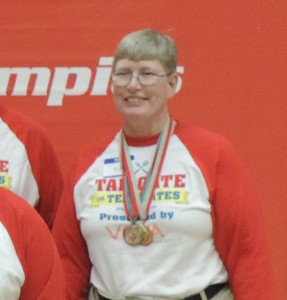 Courtesy of big12sports.com
The Big 12 Conference has announced the 2015-16 Special Olympics Athletes of the Year. This year's winners are Kim Lively of Ames, Iowa, and Cody Pierce of Pittsburg , Kan.
Each season, the Big 12, in conjunction with select Special Olympics affiliate offices, identifies a male and female athlete who exemplify the tenants of Special Olympics. The two recipients and members of their family are invited to the Phillips 66 Big 12 Men's Basketball Championship for an on-court presentation during the title game.
Kim Lively has been a self-proclaimed "Iowa State Cyclone fan" since she was a little girl. She has participated in Special Olympics events for over 20 years, specializing in softball and golf. Lively has won numerous medals in both, as well as track, bowling and bocce ball. She won three gold medals while competing for the first time in the state of Iowa Special Olympics Games.
Lively completed an unassisted triple play for her Special Olympics softball team, which she lists as one of her favorite sports memories.
In addition to playing sports, the Cyclone fanatic is a football, volleyball and men's and women's basketball season ticket holder.
Cody Pierce, a member of the New Hope Bulldogs Special Olympics Team in his native Pittsburg, has participated in Special Olympics for 15 years. Taking only two weeks off a year, Pierce regularly trains for flag football, softball and basketball competitions while participating in 11 other sports.
As a 2015 KOAM-TV Athlete of the Month, Pierce is also a gold-medal-winning long jumper, having earned first place in the 2014 USA Games in Princeton, New Jersey. He also led his team to its first flag football national championship, throwing for 18 touchdowns and assisting with seven more; en route to MVP honors.
When he's not throwing for prolific numbers on the football field, Pierce enjoys watching movies, cheering for the New England Patriots and hanging out with friends.