In the spirit of the holidays, Special Olympics Iowa is featuring 12 Days of Athletes throughout the month of December. In honor of these amazing athletes, please consider making your year-end donation to Special Olympics Iowa. If your donation is received by December 31, it will be DOUBLED!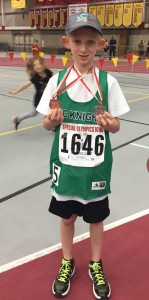 Name: Dylan Jorgensen
Age: 12
Delegation: Sioux City Knights, Northwest Area
SOIA sports I participate in: bowling, unified golf, basketball skills, developmental basketball (3-on-3), soccer, softball, athletics (long jump, 4×100, 50 meter dash)
What does Special Olympics mean to you? It is fun and I get to be a part of a team. I get to play sports with my friends. I get to go to Iowa City where my favorite team is, the Hawkeyes, and to Ames to play sports and watch other friends play sports too.
What is a fun fact about yourself? I have been in the Scouts for 7 years and achieve my Tenderfoot rank in Boy Scouts this year. I have been with the Sioux City Knights since the delegation was formed. I love to mow yards and shovel snow. I enjoy cheering on the Sioux City Musketeers hockey team and Explorers baseball team.
What is your favorite part about the holiday season? Driving around looking at the Christmas lights with my mom and dad and sisters, selling trees for Boy Scouts, spend time with my papa during Christmas break, playing in the snow.