In the spirit of the holidays, Special Olympics Iowa is featuring 12 Days of Athletes throughout the month of December. In honor of these amazing athletes, please consider making your year-end donation to Special Olympics Iowa. If your donation is received by December 31, it will be DOUBLED!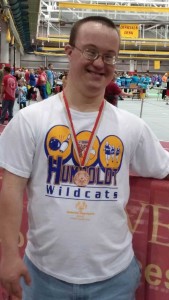 Name: Brent Oberhelman
Age: 24
Delegation: Humboldt, North Central Area
SOIA sports I participates in: bowling, basketball, athletics (100 meter dash and mini javelin)
What is your favorite part of Special Olympics? My favorite part of Special Olympics is bowling and running in track and field.
What is a fun fact about yourself? I LOVE NFL football and can tell people statistics about many players and games from any year in history along with present players and game stats. My favorite team is the Tampa Bay Buccaneers. I have been to seven NFL stadiums including the Buccaneers stadium.
What is your favorite part about the holiday season? My favorite part of Christmas is being with family and getting presents!!