In the spirit of the holidays, Special Olympics Iowa is featuring 12 Days of Athletes throughout the month of December. In honor of these amazing athletes, please consider making your year-end donation to Special Olympics Iowa. If your donation is received by December 31, it will be DOUBLED!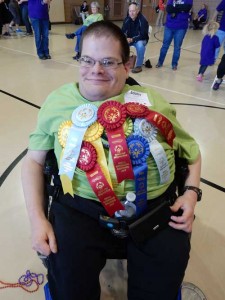 Name: Bobby Johnson
Age: 27
Delegation: Waterloo Goodwill, Northeast Area
SOIA sports I participate in: bowling, basketball skills, challenge days, bocce, athletics (100m wheelchair race, softball throw)
What does Special Olympics mean to you? Special Olympics gives me the opportunity to be social and stay in shape and spend time with my team of friends and make new ones. It also gives me the opportunity to be competitive. I especially love bowling.
What is a fun fact about yourself? I am a diehard Dallas Cowboys fan, and my three-year-old niece has me wrapped around her little finger…but I wouldn't have it any other way. My friends say that I am sociable, funny, have a big heart and have the ability to adapt when things don't go as planned. I also have the ability to touch people's hearts as we experienced during my most recent hospital stay.
What is your favorite part about the holiday season? My favorite part of the holiday season is spending time with family and friends. I love Christmas because I like seeing all the different decorations that people put up. We have a tradition in our family where we all gather at our house for a big family and friends dinner and play different games…including BINGO and LCR.