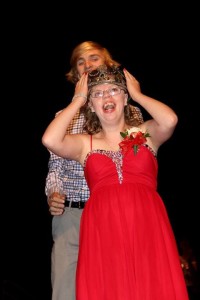 Spirit Lake High School embodied the spirit of inclusion as Special Olympics Iowa athlete Megan Vierkant was crowned its 2015 Homecoming Queen on Sept. 23.
Megan was nominated as one of five senior girls up for the honor. When her name was called as one of the nominees she was a bit surprised, but her surprise quickly turned to excitement as she jumped up from the bleachers and ran to join the other candidates as the gym exploded with cheers.
The student body of 450 freshman through seniors voted to decide who would be their queen, and when Megan's name was called once again, she was overwhelmed with support. The roar of the crowd, tears of joy and endless applause were only overshadowed by the support she was shown from the rest of the Homecoming Court.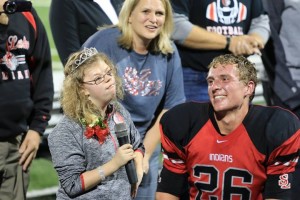 "I was excited to get the crown!" Megan shared. "I am happy that my friends voted me to be the queen.  I had a fun week and am very happy!"
Megan's royal reign continued through the week, participating in pep rallies at the elementary school, middle school and high school. She got her first ride in a convertible during the homecoming parade before proudly walking with her parents to be introduced to the cheering crowd at the big game. The king and queen each gave a short speech at the game, where Megan thanked everyone for supporting her in getting her crown.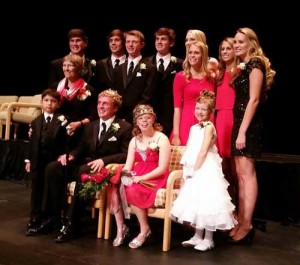 "We are very blessed to have such a supportive school, peers and community for Megan," said her mom, Nancy. "She is known all over town and greeted by name everywhere she goes."
It's easy to support someone as inspiring as Megan. She is a member of the marching band, concert band and concert choir at school. She also delivers Meals on Wheels several times a month, with several clients who wait for her day to deliver her meals.
As a Special Olympics athlete, Megan has become an ambassador for the Unified Sports program. She plays unified golf and always recruits one of her peers from school to be her partner, incorporating other friends to help her train for her non-unified competitions. The training program has become so popular that there is a waiting list of students to come be Special Olympics training partners.
Megan truly personifies how Special Olympics Iowa's goal of acceptance and inclusion can truly benefit the entire community. We couldn't be more proud of Megan and the students at Spirit Lake!