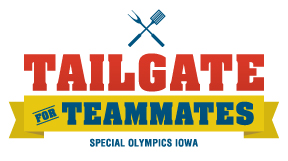 Nothing brings fans together like a good old-fashioned tailgate. Tailgate for Teammates will offer a sense of camaraderie, inclusion, and pride among athletes and their supporters.
Join us on Oct. 17 from 6-9 p.m. at the State Historical Building in downtown Des Moines. Guests will indulge in upscale tailgate cuisine, take part in fun and festive sports-themed activities, bid for prizes in an auction and cheer for athletes competing in upcoming Special Olympics Iowa events.
In addition to company sponsorships, individual tickets will be available for $100. All net proceeds from the event will go directly to the athletes. Your support would be greatly appreciated by our athletes, our fans, and all of us at Special Olympics Iowa striving to create opportunities for inclusion and achievement.
For more information on sponsoring the event or to purchase tickets, contact Stuart Steffy at 515-986-5520.