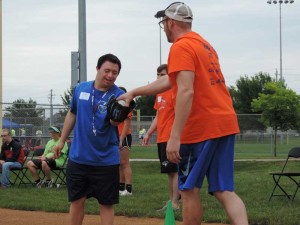 More than 400 athletes competed during the Special Olympics Iowa State Softball Tournament Aug. 8 at the Prairie Ridge Sports Complex in Ankeny. Sammons Financial Group was the Presenting Sponsor for the event, providing more than 80 volunteers including employees, their families and friends.
Highlights of the day included a check presentation for $10,000 from Sammons Financial Group to continue its Champion Statewide Partnership and also serve as the Presenting Sponsor of the State Softball Tournament. A new partner of SOIA, Kona Ice, providing spectators and athletes with snow cones as a cool refreshment. They later presented SOIA with a check from the proceeds that day.
Though more teams were on the fields this year, the state softball skills competition was the main reason for the increase in athletes at the tournament.
"The new venue along with the fantastic volutneers from Sammons allowed us to put on an amazing event," said SOIA CEO Gary Harms. "The determination, sportsmanship and pure enjoyment displayed throughout the day drives the athlete experience and joy, provides inspiration for our coaches and keeps our fans cheering."