Special Olympics Iowa honored its Outstanding Athlete, Coach and Family of the Year award winners during the Summer Games Opening Ceremony presented by Hy-Vee May 21 at Iowa State University's Hilton Coliseum. The Scott Bryant Unsung Hero Award was also presented to recognize an individual dedicated to the Law Enforcement Torch Run program.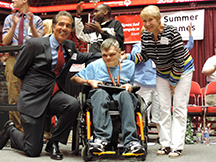 Outstanding Athlete of the Year
Danny McDonald (Glenwood)
Danny McDonald has been in Special Olympics for more than 30 years, competing in bowling, bocce, track and Challenge Days. He had the opportunity to compete at the 2006 National Games in Ames when our Challenge Day was showcased for three days to people from all over the United States. It was nothing but pure fun for this athlete, making new friends and competing with athletes from all over the country, playing basketball and volleyball. Danny is one of the friendliest, kindest and most loving people you will ever meet. He is always ready to shake your hand after he competes. It doesn't matter if he gets first or last place; to him, he is a winner because he gets to participate.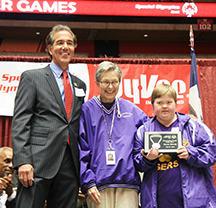 Outstanding Coach of the Year
Stevie Shively (Spencer)
Stevie Shively exemplifies all the qualities a Special Olympics coach should have – commitment, compassion and the ability to motivate and train our athletes for competition and life. She has been involved in Spencer Community Special Olympics for more than 30 years, filling roles as coach, chaperone, fundraiser and more. Her desire to help bring out the best in our athletes has helped create an outstanding Special Olympics program in Spencer.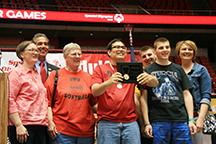 Outstanding Family of the Year
The Arrick Family (Sheldon)
Harry and Connie Arrick's son, Zach is an active member of the Village Northwest Unlimited Panthers in Sheldon. The Arrick's and their two daughters welcomed Zach, as well as two more sons with special needs, into their home and hearts. The family can always be found in the bleachers encouraging the Panthers, often making up their own cheers and chants. Their liveliness and enthusiasm is contagious to all in attendance at Panther events. The Arrick Family's love and dedication to their family and others have made a tremendous impact on the Panthers team.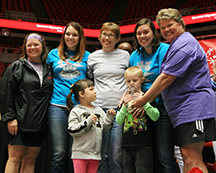 Scott Bryant Unsung Hero Award
Jeannette Steinfeldt (Polk City)
Jeanette Steinfeldt is the director of development for Special Olympics Iowa. She truly exemplifies what this award was intended for. Her dedication and determination for the past 26 years has helped guide the Iowa Law Enforcement Torch Run program. As the largest grass roots fundraising entity for Special Olympics Iowa. Her efforts helped raise more than $865,000 in 2014.
Congratulations to our 2015 award winners!