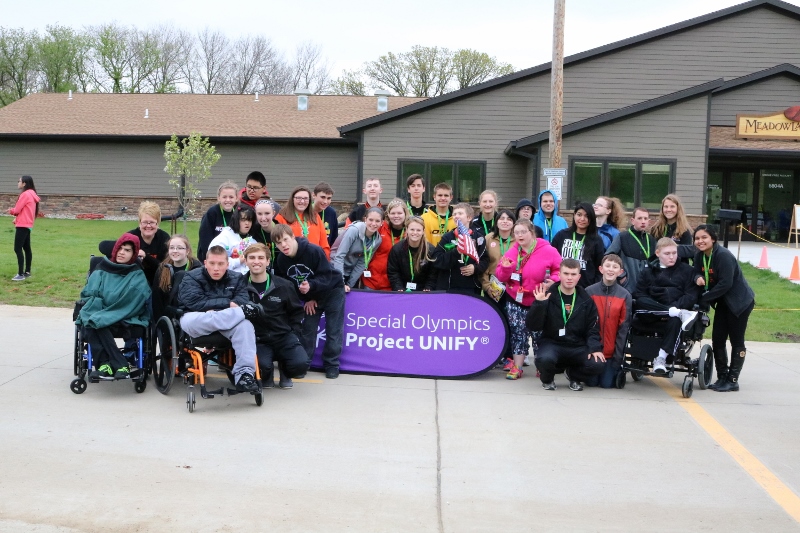 Special Olympics Unified Champion Schools® (formerly known as Project UNIFY) is an education and sports based strategy powered by an engaged youth community that increases athletic and leadership opportunities for students with and without intellectual disabilities, while creating communities of acceptance for all. Any student can join the Unified Champion Schools® movement and become an agent of change in their community. Become a youth leader by fostering involvement with Special Olympics Iowa in your school!
Special Olympics Iowa works with pre-schools, elementary schools, middle schools, high schools and colleges to implement or continue the three major initiatives of Unified Champion Schools®:
Inclusive Sports 
A fully inclusive sports or fitness program that combines an approximately equal number of students with and without intellectual disabilities, such as Special Olympics Unified Sports, Interscholastic Unified Sports, Unified PE or Unified Intramurals.
Recreation Sports
Team Competitions
Inclusive Youth Leadership 
Students with and without intellectual disabilities working together to lead and plan advocacy, awareness, and other Special Olympics and related inclusive activities throughout the school year.
Partner/Buddy Club
Youth Volunteers
Peer Coaches
Special Olympics Fundraisers
Youth Activation Committee (YAC)
Whole School Awareness and Involvement  
Awareness and education activities that promote inclusion and reach the majority of the school population and all students in the school have opportunities to participate through sustained school-wide activities.
For more information or to start a Unified Champion School® group at your school, contact: Bryan Coffey, Volunteer and Unified Sports Director
515-986-5520 x119.