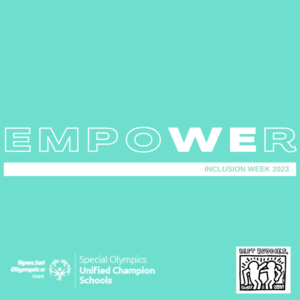 This is an experience that we encourage students and faculty to embrace. It highlights the joys of ALL ABILITIES and allows us to share the importance of INCLUSION.
This will be the fifth year that Special Olympics Iowa has celebrated #InclusionWeek. Students and school staff statewide have continually expressed an overwhelmingly positive response each year!
Last year, 110 Unified Champion Schools across the state of Iowa participated in #InclusionWeek. These schools  included elementary, middle, high, and college levels! In addition, many of our statewide sponsors participated in the festivities of #InclusionWeek!
Whether you use social media platforms or another promotional source, please know that we look forward to seeing photos and hearing your stories about the many creative ways that your school will join us in the #InclusionWeek celebrations! Please use the hashtag #InclusionWeek to show the world what your community is doing and to help everyone understand the importance of Inclusion.
#InclusionWeek: 2024 Dates coming soon!
Check out our 2023 Inclusion week packet here!
If you have questions about #InclusionWeek, contact: Krista Smith, Director of Unified Programs 515-986-5520.