Special Olympics Iowa is happy to announce that in 2017, UnitedHealthcare became a SOIA Premier Statewide Partner and a sponsor of Challenge Days and the Healthy Athletes program, positively impacting thousands of Iowans with intellectual disabilities.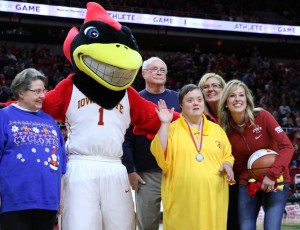 UnitedHealthcare fits right in with the SOIA mission, as the company works every day "to help people live healthier lives." The company has a strong history with SOIA, serving as a Gold Level Sponsor in past years before coming on as a Statewide Partner. And in 2016-2017, in collaboration with Iowa State University and SOIA, they started the "Athlete of the Game" presentation at ten men's basketball games at ISU, where a Special Olympics' athlete is recognized on the floor at Hilton Coliseum and presented with an autographed basketball. Prior to that, UnitedHealthcare donated $25,000 to support SOIA programs and activities across the state.
On Saturday, April 8, as a part of their sponsorship at ISU games, UnitedHealthcare will honor all Special Olympics athletes at the ISU Spring Game. The game starts at 1 p.m. and the event is free. They encourage everyone to come!
"Having the opportunity to volunteer with Special Olympics at Challenge Days in Des Moines was an incredibly rewarding experience," says Sami Riley, RN, DSN, Clinical Practice Consultant with UnitedHealthcare. "Each volunteer from United Healthcare was paired with an athlete. Throughout the day we were able to assist the athletes in various competitions. Watching the smiles on their faces as they achieved success was truly magical. I am grateful for the opportunity to experience such an amazing event with Special Olympics."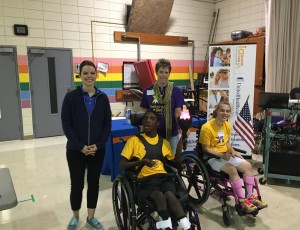 On March 10-11, SOIA will hold its annual Mid-Winter Tournament in Iowa City, where Iowa athletes will get a chance to participate in Healthy Hearing and Health Promotions throughout the tournament thanks to UnitedHealthcare' s sponsorship of the Healthy Athletes programs. Mid-Winter Tournament marks the first official statewide event UnitedHealthcare will sponsor as a Premier Statewide Partner.
SOIA is excited to welcome UnitedHealthcare aboard and excited to see this partnership grow to help the over 13,000 athletes that participate in Special Olympics in Iowa.