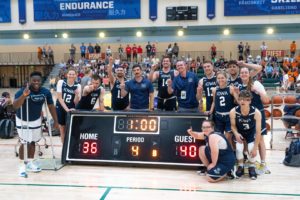 Special Olympics Unified Sports® is a component of the Unified Champion Schools® strategy that engages students with and without intellectual disabilities on the same sports team. Unified Sports® provides valuable social and inclusion opportunities for all teammates to build friendships, on and off the playing field.
Special Olympics Iowa Offers Unified Sports Competition in:
| | |
| --- | --- |
| Athletics (Track and Field) | Basketball |
| Bocce | Bowling |
| Cheerleading and Dance | Cycling |
| Figure Skating | Flag Football |
| Golf | Pickleball |
| Powerlifting | Snowshoeing |
| Soccer | Softball |
| Speed Skating | Swimming |
| Tennis | Volleyball |
Unified PE
Unified Physical Education provides a unique opportunity for students with and without intellectual disabilities to come together through ongoing physical educational and physical activities, using the power of Special Olympics.
Unified Fitness
Through a unique combination of intentionally planned and implemented activities, fitness as a part of the Unified Champion Schools program has the capacity to promote social inclusion, and lifelong healthy behaviors within the student body and broader school community.
Opportunities for Unified Fitness in Schools:
Young Athletes
Young Athletes is a sport and play program for children with and without intellectual disabilities (ID), ages 2 to 7 years old. Young Athletes can serve as a key component to an elementary or pre-K Unified Champion School by providing an inclusive sports experience for children.
Young Athletes introduces children to sports by teaching them age-appropriate gross motor development skills that support their future participation in Unified Sports®. When conducted in schools or early childhood development centers and combined with Inclusive Youth Leadership and Whole School Engagement, there is a greater potential to impact attitude change and create an environment of inclusion and respect.
The Young Athletes Activity Guide has games and activities that help children learn movements they will use in sports and daily life. There are tips in the Activity Guide on how to adapt the activities to match the skills or needs of each child.
There is an 8-Week curriculum guide that compliments the Young Athletes Activity guide.
Events
Event Date
Event
Entries due by
Event Location

Dec 8 (all day)

Iowa State University Unified Sports Day

Feb 10 (all day)

Wartburg Unified Sports Day

Apr 7 (all day)

Iowa State University UnifiedFest

Lied Recreation Center (518 Beach Rd, Ames, IA 50111)