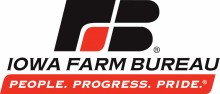 We are happy to announce that the Iowa Farm Bureau has become a Premier Statewide Partner with Special Olympics Iowa (SOIA)!
Farm Bureau has always supported SOIA — not only through generous gifts, but also through committed volunteer efforts from employees volunteering at SOIA events. For many years, team members from Farm Bureau have created relationships with athletes and managed events during Summer Games, participated in Unified volleyball, and joined us in many other volunteer opportunities.
They have been the Venue Sponsor for all developmental events during Summer Games with hundreds of company employees volunteering to help run the various developmental activities. Farm Bureau's partnership with SOIA will help enhance existing opportunities for our athlete population statewide, and will help SOIA meet the growing demand for events and programs for new athletes.
Thank you, Farm Bureau! We're excited to have you as our newest Premier Statewide Partner!