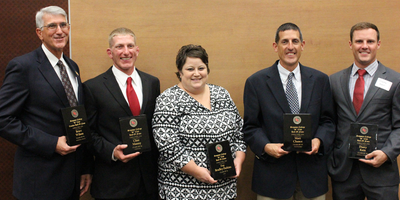 West Region Director of Field Services, Bruce Wilson, was inducted into the Simpson College Coaches Hall of Fame in October. Before joining the Special Olympics Iowa staff, Wilson served as the head coach of Simpson's men's basketball team for 25 years.
Membership in the Coaches Hall of Fame at Simpson is reserved for coaches who have made significant contributions to the college, athletic program, his or her sport, and the students of the college. Wilson is the winningest coach in the school's history. He went 341-305 in his 25 years as head coach, won three Iowa Conference Championships, and made three trips to the NCAA Tournament. He's been named the Iowa Coach of the Year three times and was named the Division III West Region Coach of the Year in 1992. 
Wilson was also instrumental in helping his players achieve greatness. Under his coaching, Simpson student-athletes earned All-Iowa Conference honors 32 times. Nine of Simpson's 18 career 1,000-point scorers played under Wilson.
From all of us at SOIA, we'd like to congratulate Bruce on this wonderful accomplishment. We know he brings the same hard work and dedication to Special Olympics every day.
Congratulations, Bruce!