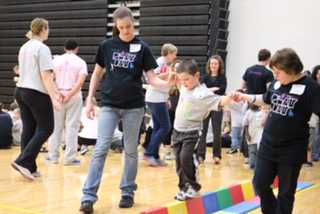 Special Olympics Iowa (SOIA) hosted two Young Athlete Play Activity Day sessions sponsored by Sammons Financial Group on April 21. The event was held at Ankeny Centennial High School with one session running in the morning and one in the afternoon.
The Youth Athlete Play Activity Day is a program designed to provide play activities and socialization opportunities for children with intellectual disabilities between the ages of two and seven. The program is for children that are too young to participate in traditional SOIA competitions as the minimum entry age for traditional competition is eight years old. Area schools participated in the Ankeny Play Day, as well as a few schools that were from outside the area, making it the biggest Play Day event in its history.
The Play Day was also a unified event. Unified events create an opportunity for people without intellectual disabilities to play on a team with athletes with intellectual disabilities. The day started with a short Opening Ceremony. Beforehand, children were split into groups with each group having a team leader who took the children to every activity station. Each station was adapted to meet the needs of each individual child. After completing all 10 stations, children were awarded with ribbons for their achievement.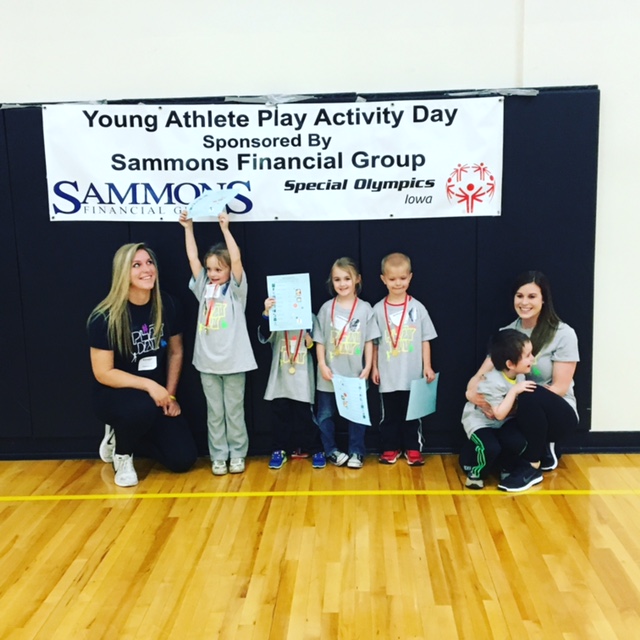 Activities included ball darts, basketball, batting, bowling, 25-foot dash, musical balance beam, obstacle course, ribbon routine, soccer kick, standing long jump and tennis ball throw. Each activity a child participates in represents a different sport offered by Special Olympics. Children do not compete, but rather enjoy the games and activities. Instead, the program helps increase the children's strength and coordination for sports, while introducing them to group play and cooperation and the awareness or rules it requires.
Over 500 children were registered to participate in the Ankeny Play Day. That's an increase from 425 participants in 2015. There were also more than 300 volunteers from Sammons Financial Group and Ankeny Centennial High School and Ankeny High School that helped with the event. Volunteers ran events and worked as team leaders. In addition to the kids having a fun, active day, the event also provides networking opportunities for parents of children with intellectual disabilities.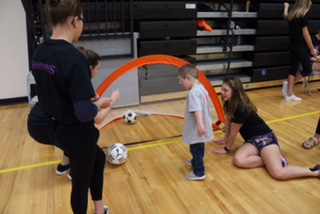 SOIA Director of Athlete Initiatives, Kathy Irving, was pleased with the event's turnout of volunteers. "Sammons volunteers are great. They always come back year after year. The Ankeny high school students were really phenomenal volunteers this year," she says. Irving was impressed by the teenagers' ability to work with the young children. "It's good to see the high school kids interacting so well with the kids because they're the future for our athletes," she says. "It gives me such a high to know others care."