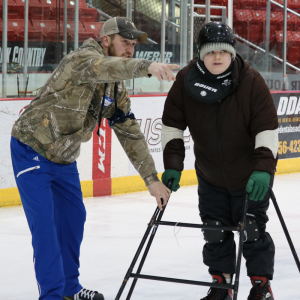 The volunteer spirit was shining bright during Special Olympics Iowa Winter Games in Dubuque, especially among a group of students from the University of Dubuque who were lending a helping hand at the Mystique Ice Arena. For five years, the Quest for the Cup class, taught by Jim Romagna, has helped to make sure the figure skating and speed skating events run smoothly. Students help with race coordination, helping athletes on and off the ice, cheering them on during their events, race timing, awards, set-up and tear down.
Romagna is the department head of the Health, Wellness and Sport Program at the university and has turned volunteering at Winter Games into an annual event in the course syllabus. The J-term class is held for three weeks during the university's winter break, with the primary focus on learning the history of the Dubuque Fighting Saints USHL hockey team. Students get an inside look at hockey operations including marketing, fundraising, practices, off-ice workouts and more.
Romagna became aware of the SOIA Winter Games when talking with the Mystique Ice Arena manager one year to schedule ice time. The rink manager said he couldn't have any ice time on Monday or Tuesday because Special Olympics was in town.
"I said why don't we get involved with it," Romangna remembers. "Let's come down and get our students on the ice to help. So it kind of happened a little bit by accident, but it has turned out to be one of the highlights of the class for the students."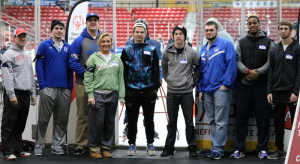 When students enroll in the class, Romagna makes sure they know that they will be volunteering at SOIA Winter Games as a part of the course. But students find their experience with the Special Olympics Iowa athletes becomes their favorite part of the class.
"Every semester, I do class evaluations and a lot of times the one thing they comment on is Special Olympics," said Romagna. "They really get a lot out of it and it is a fun experience for them."
It takes more than 300 volunteers to make Winter Games a success and more than 15,000 people volunteer at Special Olympics Iowa events each year. To learn more about how you can get involved, visit www.soiowa.org/volunteer.