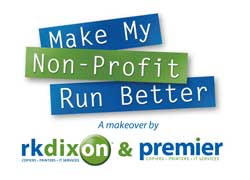 After more than 63,260 total online votes were cast, Special Olympics Iowa (SOIA), based in the Des Moines area, was proclaimed the winner of the 10th annual Make My Non-Profit Run Better contest.
Representatives from Premier, a leading provider of copiers, printers, networks, managed print services and pure drinking water systems, announced on WOI-TV this morning that Special Olympics Iowa – a non-profit that provides year-round sports training and competition for children and adults with intellectual disabilities – is the grand prize winner of a $15,000 office technology makeover.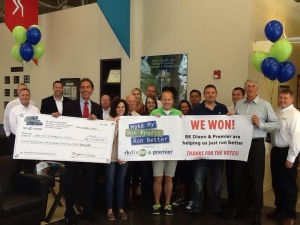 "This technology makeover will allow us to not only provide enhanced service to our athletes and volunteers, but will help our staff to better promote our message of inclusion and transformation," said SOIA CEO Gary Harms. "We are so grateful and wish to thank all who were a part of this great effort – our athletes, families, volunteers, coaches, sponsors and all of our friends who voted for us. Our primary mission is to provide the best experience possible for our athlete friends; this wonderful gift will most certainly have a major impact in our ability to do so."
Marshalltown Christian School and Iowa Able Foundation garnered enough online votes to be runners-up in the Des Moines area, and each will receive a printer from Premier and RK Dixon valued at $1,000.
The Make My Non-Profit Run Better contest was established by RK Dixon 10 years ago to give non-profits a chance to win free office equipment and technology solutions to help them run better.
RK Dixon and Premier representatives will visit the 18 prize winners in the upcoming weeks to assess technological needs, and install equipment to fulfill each organization's office and technology needs. For a full list of winners, please visit www.MMNPRB.com.
"Awarding these non-profits with their technology prizes is one of our favorite activities here at RK Dixon," said Bryan Dixon, CEO of RK Dixon. "The organizations are so deserving and the public really stepped up in promoting the contest to generate online votes. The most fulfilling part of this contest, though, is how these makeovers allow non-profits to improve their day-to-day functions, run more efficiently and better serve those who use their services."
The 2015 Make My Non-Profit Run Better contest began with 199 non-profits entering from across Iowa, Illinois and southern Wisconsin for their chance to win the $15,000 makeover. Organizations then encouraged their supporters to vote online at www.MMNPRB.com. Votes were counted electronically, and the contest was narrowed to 30 finalists after a second round of online voting.
In the Des Moines area, RK Dixon and Premier are partnering with WOI-TV for this year's Make My Non-Profit Run Better contest.
For more information, visit www.rkdixon.com or contact Sue Hill, VP of Marketing for RK Dixon at 877.RK.DIXON (877.753.4966)