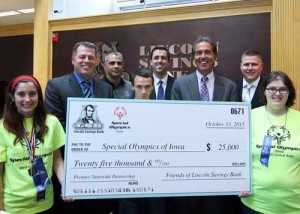 Special Olympics Iowa (SOIA) is proud to announce Lincoln Savings Bank as its newest Statewide Partner. With a gift of $25,000, Lincoln Savings Bank will be a Premier Statewide Partner for SOIA, after agreeing to become the Presenting Sponsor of the West Des Moines and Cedar Falls/Waterloo Polar Plunges.
"We are very excited to announce our new partnership with Lincoln Savings Bank," said SOIA CEO Gary Harms. "Their team has expressed a great deal of enthusiasm and excitement in supporting our mission – not only for the Jordan Creek Town Center Polar Plunge to be held on November 7, but also in becoming a part of the volunteer force within our Special Olympics Iowa family. Their support will be a key driver in our efforts to create inclusion-based, joyful experiences for our friends with intellectual disabilities in each of our communities throughout the state of Iowa."
"The energy and overall joy this partnership has brought upon our own employees confirms what we already knew – this is the organization we've been searching to work with," said Lincoln Savings Bank CEO, Erik Skovgard.
The Polar Plunge® is a signature fundraiser for Special Olympics and offers a unique opportunity for individuals and organizations to raise money and support Special Olympics Iowa athletes by jumping into frigid waters. The West Des Moines Polar Plunge will be held Nov. 7 at Jordan Creek Mall and the Cedar Falls/Waterloo Polar Plunge will be held in the spring of 2016.
ABOUT SPECIAL OLYMPICS IOWA: Special Olympics Iowa (SOIA), a statewide nonprofit organization, provides high-quality training and competition for children and adults with intellectual disabilities in all 99 counties of Iowa. SOIA offers 23 Olympic-style sports to more than 12,000 athletes and Unified Sports partners year-round.
Since 1968, Special Olympics has provided an inclusive culture that stresses athletic excellence, rewards determination, emphasizes health and celebrates personal achievement. Through Special Olympics sports training and competition, children and adults with intellectual disabilities reach their full potential and experience inclusion in their communities every day.
ABOUT LINCOLN SAVINGS BANK: Lincoln Savings Bank (LSB) is an $840 million, full service bank and member of the Federal Deposit Insurance Corporation. Since our founding in 1902, Lincoln Savings Bank (LSB) has been serving the banking needs of Iowans. LSB Financial, a subsidiary of Lincoln Savings Bank, extends these traditional banking capabilities to include Insurance, Investments, Trust, Real Estate services, and more. Together, Lincoln Savings Bank and LSB Financial operate seamlessly to be your complete financial services provider.