By Shelly Perkins, CLG Communications, Wells Fargo
Making the decision to help out, lend a hand, become involved, stand up for a cause, become an advocate, has a far-reaching and positive influence on so many lives. For Chick Herbert, a Business Initiatives Senior Manager in our Retail Services business in Des Moines, choosing to volunteer and serve on the board for Special Olympics Iowa (SOIA) the past nine years has been an extremely meaningful and rewarding experience for a number of reasons – specifically, meeting and growing a friendship with Tyler Leech.

Building a foundation
Chick and Tyler met during Chick's first year with SOIA and Chick soon learned why everyone knows and loves Tyler. "Tyler is a great human being and very active in the SOIA movement," said Chick. "Tyler is a Global Messenger (Global Messengers are ambassadors for SOIA). The Global Messenger program provides Special Olympics athletes formal communication and presentation skills training. Tyler is a tremendously talented Global Messenger and shares with others how SOIA has shaped his life and given him opportunities."
Chick recalls when he chaired the Gold Medal Gala fundraiser with Tyler as the co-emcee with popular local sportscaster Keith Murphy. Tyler stole the show with his sense of humor and quick wit. Chick enjoyed working with Tyler throughout the years and loved seeing him in action – from running through the fan tunnel with Harrison Barnes (Ames, Iowa native and Golden State Warrior) during player introductions at the NBA preseason game at Wells Fargo Arena, to speaking to crowds of more than 3,000 at the opening ceremony of the SOIA Summer Games!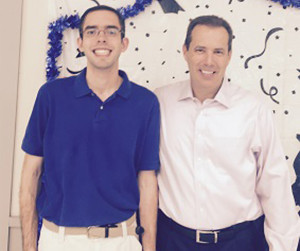 A new partnership emerges
The evening after the NBA game, Tyler asked Chick if he could help arrange a job shadow at Wells Fargo to meet his class requirement at Des Moines Area Community College. Chick reached out across our business, had multiple managers raise their hands, and arranged for Tyler to shadow two separate departments within Retail Services (two hours each). Of course Tyler performed well.
"I am a member of our diversity and inclusion council which manages our summer intern program," added Chick. "Prior to making the internship offer to Tyler, I spoke with his mother, whom I have known for years, and outlined the process and our plans. She was very supportive and gave me the green light. Needless-to-say, Tyler has excelled as an intern – as he does with everything he sets out to accomplish!"
"I have had a great experience with the internship program," said Tyler. "I was so happy to be involved with it. Chick and I have known each other throughout Wells Fargo and also in Special Olympics, so I'm glad we have had the opportunity to work together. I think Wells Fargo is a great company to work for and it has been my dream to work for Wells Fargo for as long as I can remember. I'm glad I had the opportunity to be an intern here and I hope that I can work at Wells Fargo for a long time."
"Tyler is one of the kindest and most involved individuals I have ever met," said Ashley Sill, a fellow intern in the Retail Services area. "Working with him this summer was a delight; his sense of humor and caring heart were great additions to our intern group. We could always count on Tyler to show up with fun stories and a fresh perspective each and every day and I will sincerely miss working with him!"
"Tyler has been an amazing addition to our team over the last eight weeks," said Ashlee Goodrich. "He came to work every day with a positive attitude and an open mind. Not only did Tyler learn a lot and make new friends, he offered others an experience that most people don't get. Wells Fargo would benefit tremendously from having Tyler as a team member."
"At the Summer Games, Tyler told my youngest son who was volunteering with me, that working for Wells Fargo was a life-long dream of his," said Chick. "He wants to work for a company that gives back and is community focused. He knows we are because he has met hundreds of Wells Fargo volunteers from his SOIA competitions over the years.
"Each year, a number of individual Iowans, schools, businesses and groups are recognized with Iowa Character Awards, presented by officials with the Robert D. and Billie Ray Center at Drake University. Tyler is being recognized as the 2015 Citizen of Character in the Adult division – and Ashlee and I will have the honor to attend the awards ceremony when he is honored! I am proud of all that he has accomplished in his life and my goal is to help find Tyler full-time work at Wells Fargo."