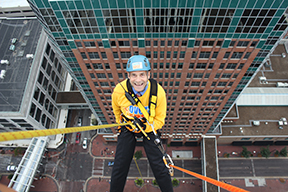 The fear of heights is one of the most common phobias in the world…but why let that stop you? Over the Edge is a unique opportunity for individuals and organizations to raise money and support SOIA athletes by rappelling off the 345-ft Financial Center in downtown Des Moines!
The whole event is an experience you'll never forget, and one you'll want to share with others! Help us recruit rappellers or find another way for everyone to be involved:
Rappel Solo
Rappel as a Team
Corporate Challenge
Toss Your Boss
Sponsor
Volunteer
Recruit
Participants must raise a minimum of $1,000 to guarantee a rappel spot. Space is limited so fundraise early!
Want to toss your boss? Your fearless leader may not seem so fearless when it comes to dangling over the side of a 345-ft building. Start a petition and generate excitement in the office so that your boss can't say no!