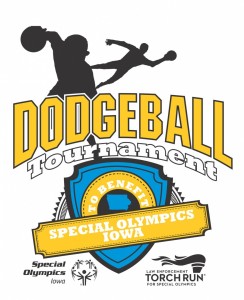 You may have hated it in fourth grade, but you'll love playing dodgeball now at the LETR Dodgeball Tournament! Get on the court and put yourself on the line for the Law Enforcement Torch Run® and Special Olympics Iowa.
Dodge for Donations
Max of 7 players per team to start the game. Teams can have up to 10 players on the roster
All players must be 12 years of age or older
Teams will have a seven match guarantee
Get the full set of rules for Norwalk here
Pool play match ups TBA
Event Details
Norwalk Dodgeball Tournament
Date: Saturday, January 27, 2018
Location: Lakewood Elementary, Norwalk
Cost: $200 per team
Registration: Register online here. Click here for the flyer.

For more information, contact:
Rachel Bosworth, LETR Marketing/Event Coordinator
515-986-5520 x108
Jayson Spurr, Norwalk Police Department
515-981-0666
Iowa City Dodgeball Tournament
Date: 2018 TBA
Location: North Liberty Recreation Center
Cost: $200 per team
Registration: Check back soon
For more information, contact:
Mary Besler, LETR Event Coordinator
515-986-5520
Dodgeball Tournament Sponsors












Law Enforcement Torch Run® Sponsors