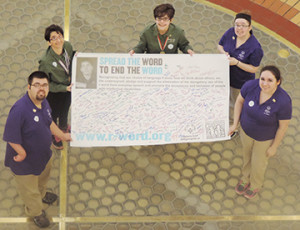 The Spread the Word to End the Word® Campaign is a grassroots effort to educate people around the world about hurtful language and advocate for them to stop using the "R-word" ("retard" and comparable words in different cultures). The campaign targets students through school events and social networking, inviting them to sign an online pledge, and spread the word on their campuses. To date, more than 650,000 people have taken the online pledge while millions have signed petitions, banners and taken oaths around the world to stop hurtful language and banish prejudices.Take the pledge at www.r-word.org.
Event Details
Date: Thursday, February 15, 2018
Time: 9:30 am. – 3 p.m.
Location: Iowa State Capitol Building, Rotunda
For more information, contact:
Bryan Coffey, Director of Unified Sports and Volunteers
515-986-5520
Spread the Word to End the Word resources are also available at www.r-word.org.