The IMT Des Moines Marathon is partnering with Special Olympics Iowa for the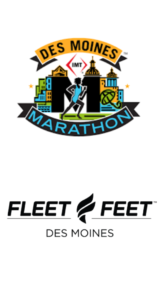 Principal 5k Road Race again this year for a Unified opportunity.
This is an opportunity for Principal 5K Road Race athletes to partner up with Special Olympic athletes and participate in the race together!
Training Dates:
Aug 20 @ 9:00am
Aug 27 @ 9:00am
Sept 3 @ 9:00am
Sept 10 @ 9:00am
Sept 17 @ 9:00am
Sept 24 @ 9:00am
Oct 1 @ 9:00am
Oct 8 @ 9:00am
The location of the training is Fleet Feet Des Moines (521 E. Locust St, Des Moines, Iowa, 50309).  Parking is in the ramp that is attached to the building.  You can enter the ramp off E. 6th Street.  The entrance is in the middle of the block. Be sure to bring running shoes and a water bottle to each training session.
The race will occur the morning of Sunday, October 16th (Downtown Des Moines: Court Avenue District, 300 Court Avenue, Des Moines, Iowa, 50309). Race weekend responsibilities will include a check in at the Special Olympics Iowa booth on either Friday, October 14, or Saturday, October 15, during athlete packet pick-up hours.