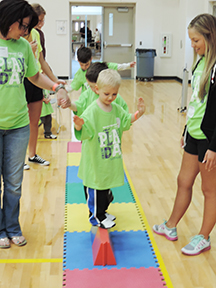 Every child wants the chance to kick a ball, to throw it well and to share that success with family members. Every child with intellectual disabilities wants the exact same thing.
Young Athletes Play Days are designed to provide play activities and socialization opportunities for children with intellectual disabilities between the ages of two and seven. Play Days were created to serve children too young to participate in formal Special Olympics events (athletes can begin competing at age eight).
An Introduction to Special Olympics
Young Athletes Play Days are a wonderful introduction to Special Olympics. Children participate in 10 different activities, representing 10 different sports offered by Special Olympics. The program helps increase the young children's strength and coordination for sports while introducing them to group play, cooperation and awareness of rules.
Young Athletes Play Days are held each year throughout the state in the following cities:
Cedar Falls
Cedar Rapids
Council Bluffs
Davenport
Des Moines
Dubuque
Muscatine
Oskaloosa
Sioux City
Teachers are encouraged to register their entire classroom to attend a Play Day. Mainstream and special education students are welcome to attend. If a child is in your classroom who is older than eight, they are also welcome to attend. Children can also register individually.
For more information on Young Athletes Play Days or to start a Play Day in your area, contact:
Wendy Olinger, Director of Athlete Initiatives
515-986-5520
Events
Event Date
Event
Entries due by
Event Location

Oct 3, 9:30 AM – 12:00 PM

Sioux City Young Athletes Play Day

09/11/2019

Long Lines Family Event Center, Sioux City

Nov 1, 9:30 AM – 12:00 PM

Council Bluffs Young Athlete Play Day

10/14/2019

Thomas Jefferson High School (2501 W Broadway, Council Bluffs)

Nov 7, 9:30 AM – 12:00 PM

Muscatine Young Athletes Play Day

10/17/2019

Muscatine Community YMCA

Nov 11, 9:30 AM – 12:00 PM

Muscatine Youth Athlete Play Day

10/18/2019

Muscatine YMCA (1823 Logan Street, Muscatine)

Feb 6, 9:30 AM – 12:00 PM

Oskaloosa Young Athlete Play Day

01/17/2020

William Penn Activity Center (201 Trueblood Ave. Oskaloosa, Iowa)